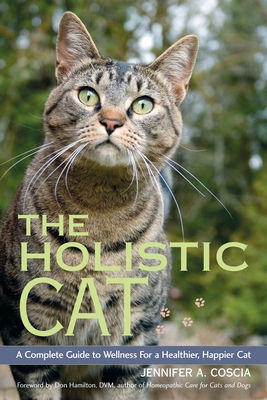 The Holistic Cat
A Complete Guide to Wellness for a Healthier, Happier Cat
Paperback

* Individual store prices may vary.
Description
Written in an accessible and engaging style for both seasoned cat lovers and first-time owners, The Holistic Cat focuses on disease prevention and provides specific tips for raising a cat in a healthy, safe environment. Author Jennifer Coscia combines many years of experience as a nutritional consultant and as the owner of an animal rescue adoption organization to cover a range of topics including nutrition, conventional vs. holistic healthcare and the use of complementary veterinary care, indoor vs. outdoor cats, vaccine-related illnesses, household and outdoor hazards, disease-specific advice, and how to make suitable arrangements for care while traveling and moving. Coscia also explores how overuse of vaccines and drugs in veterinary care, along with chemicals and contaminants in pet foods and the water supply, have radically increased disease in cats. The Holistic Cat contains inspiring first-person rescue stories complemented by vibrant photographs. This indispensable resource teaches a new approach to feline health and is also a valuable guide for veterinary students who want to learn about using alternative modalities to treat these extraordinary creatures.
Praise For The Holistic Cat: A Complete Guide to Wellness for a Healthier, Happier Cat…
"I did not need to read far into Jennifer Coscia's book to grasp the size of her heart; her dedication to cats and the loving effort she devotes to homeless cats are more than admirable. I'd say she is a saint."
—From the foreword by Don Hamilton, DVM, author of Homeopathic Care for Cats and Dogs: Small Doses for Small Animals

"Jennifer Coscia's compassion shines through in her work. She is an example of the true spirit of rescue and an inspiration to us all."
—Stephen Hart, DVM, board member, Wildlife Rescue Coalition of Northeast Florida, Inc.

"Pet owners who are interested in exploring the world of complementary medicine for their pet will enjoy reading The Holistic Cat. It is a wonderful, educational read!"
—Martina Saunders, DVM, CVA

"I was pleasantly surprised to discover both an informative and entertaining read from cover to cover…I was so impacted by Jennifer's experiences that when I reached the final page of The Holistic Cat I knew that this was a book that I would not easily forget."
—MyFelineFriends.net

"The Holistic Cat is not just loaded with valuable information and facts that just might surprise you, it also has pictures of lovable cats and stories that are sure to touch your heart."
—HealthyNewAge.com

"In this book Coscia presents a complimentary approach to health care by combining conventional veterinary medicine and alternative methods to focus on disease prevention, using first hand knowledge and experience from her shelter cats. She covers a variety of topics and illustrates each with personal experiences… heartwarming and informative."
—Cats and Dogs Naturally
North Atlantic Books, 9781556437663, 216pp.
Publication Date: January 27, 2009
About the Author
Jennifer A. Coscia, a nationally recognized nutritional consultant specializing in disease prevention, received her degree from Clayton College of Natural Health. She has combined her background in nutrition for humans with her love for and care of animals and is the owner/operator of The Animal Rescue and Adoption Agency, Inc., a non-profit (501c3) no-kill organization for the betterment of animal welfare. As a Petco partner, she has placed hundreds of homeless pets into loving homes.

An accomplished journalist and author of The Fat Elimination and Detox Program: A Holistic Approach to Weight-loss and Disease Prevention, Coscia has written for several health publications, including Natural Awakenings magazine, The Beaches magazine, and The San Marco News, and has been quoted in Women's World Weekly, Women's Digest, Fitness, and Woman's Day. She is a popular guest speaker and workshop leader for health organizations, including The American Cancer Society and The Lymphoma Society. As a specialist in Holistic Nutrition, she has appeared on FOX TV's new mini health series called What the Doctors Don't Tell You and has been interviewed on several health topics by First Coast News Channel 12.
or
Not Currently Available for Direct Purchase