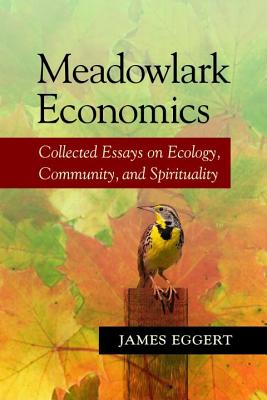 Meadowlark Economics: Collected Essays on Ecology, Community, and Spirituality (Paperback)
Collected Essays on Ecology, Community, and Spirituality
North Atlantic Books, 9781556437670, 144pp.
Publication Date: February 17, 2009
* Individual store prices may vary.
or
Not Currently Available for Direct Purchase
Description
Alarmed by the disappearance of meadowlarks from the fields near his home, James Eggert embarked on a close study of the economic and ecological factors behind the loss. His inquiry led him to conclude that the meadowlark's survival is a metaphor for ours—that our future is intimately linked to the same interplay of economics, culture, technology, and spirituality. In this innovative educational book, Eggert helps readers understand how our environment is connected to—in fact, a vital part of—our economy and business culture. In the title essay, Eggert critiques free-market capitalism, borrowing from Thoreau as he investigates what he calls "meadowlark values" in education and business. The author highlights the "preciousness of the Earth itself " and persuasively describes the creative possibilities in using science, culture, evolutionary history, and spiritual traditions to gain a deeper understanding of how we might heal the planet. A foreword by environmentalist Bill McKibben and an afterword by renowned Buddhist thinker Thich Nhat Hahn add context to this authoritative supplement to current economics texts.
About the Author
James Eggert lives with his wife Pat in rural west-central Wisconsin. He is an emeritus faculty member from the University of Wisconsin-Stout (Menomonie, Wisconsin) where he has taught undergraduate students for thirty-three years. Eggert has written five other books including "What Is Economics" (4th ed), " Invitation to Economics, "and" The Wonder of the Tao," as well as numerous articles for journals, popular magazines, and newspapers.

Eggert was a recipient of the university's Outstanding Teaching Award, and for many years, advised the student Environmental Club, GreenSense. He currently serves on the Town of Colfax plan commission, and is a member of the Wisconsin Environmental Educators, as well as the Thoreau Society. The author has been cited in Who's Who in America as well as Who's Who in American Education.

Eggert practices (and teaches) the Chinese art of tai chi, studies field-botany, and is an avid amateur astronomer. Eggert studied economics at Lawrence University in Appleton Wisconsin, served in Kenya, East Africa with the U.S. Peace Corps (1964-1966), and later did graduate work in economics at Michigan State University. The author and his wife have two adult children, Anthony and Leslie.
Praise For Meadowlark Economics: Collected Essays on Ecology, Community, and Spirituality…
"The author is an economist—but not one devoted to the prevailing theology of his profession. Economists mostly work with the dedication of beavers toward the great goal of More.... Now comes James Eggert, one of a small school of economists who has begun to think outside of the box. And it is curious that he begins by examining a word long used by his tribe: value. He inscribes it—marvelously—with real meaning, instead of the stale and transactional definition to be found in the front of the economics textbooks."
—From the foreword by Bill McKibben, best-selling author and environmentalist

"An invitation to enter a deep relationship with our home, the earth, and all her creatures, and to cultivate our awakened wisdom to find harmony and balance."
—From the preface by Thich Nhat Hanh, world-renowned teacher, author, and peace activist

"Meadowlark Economics is an excellent introduction to the subject of economics and the environment."
—Edward O. Wilson, author of Naturalist and The Creation

"The author is a fine teacher of economics whose vision transcends his chosen discipline. Meadowlark Economics will touch even those readers far removed from the dismal science."
—Alfred L. Malabre Jr., former economics editor of the Wall Street Journal and author of Lost Prophets

"It's a pleasure to watch Professor Eggert pondering how we might learn to live more responsibly in the household of Earth.... He reminds us how much of value eludes the calculus of money, including the birds singing in our fields."
—Scott Russell Sanders, author of A Private History of Awe

"This thoughtful book provides an antidote to the usual measure of progress in terms of dollars and GNP (gross national product)… Meadowlark Economics is composed of short, accessible, but thought-provoking chapters. The focus is on values and compassionate living, how we can each take personal responsibility in creating a better world… In our current economy, Meadowlark Economics seems particularly relevant."
—Karen Etter Hale, Madison Audubon Society


Advertisement