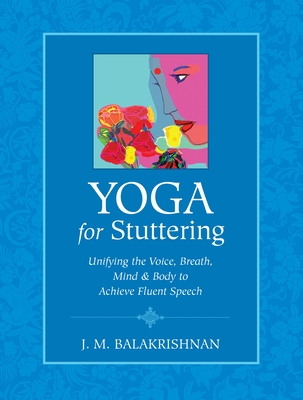 Yoga for Stuttering: Unifying the Voice, Breath, Mind & Body to Achieve Fluent Speech (Paperback)
Unifying the Voice, Breath, Mind & Body to Achieve Fluent Speech
North Atlantic Books, 9781556437687, 128pp.
Publication Date: April 7, 2009
* Individual store prices may vary.
or
Not Currently Available for Direct Purchase
Description
Stuttering, caused by a disorder in the brain's right hemisphere, can limit one's life in a variety of ways, from job choices and advancement to social and romantic opportunities. Typical remedies emphasizing antidepressants and electronic devices have had mixed results at best.
"Yoga for Stuttering "takes a fresh approach based on ancient methods. Author J.M. Balakrishnan combines an understanding of the neurological aspects of stuttering with yoga methods long used in India for remediation to form a new, natural method for improving vocal fluency. The book presents three related branches of yoga and their accompanying practices, "nada "yoga (chanting and vocalization), "hatha "yoga (yoga poses), and "raja "yoga (guided meditations), providing the reader with sets of voice, breathing, and physical exercises to help relax the body and mind, relieve chronic tension, and achieve fluent speech. The book features photos and illustrations to make the method easy to follow, and no prior knowledge of yoga is required. "Yoga for Stuttering "was created to meet the needs of those who have not obtained relief through traditional methods and is aimed at both speech pathologists and individuals looking for a holistic, drug-free approach to the condition.
About the Author
J. M. Balakrishnan has graduate degrees in Speech Communications and Speech Pathology as well as a law degree. She is a national award-winning public speaker and debater. She has served as San Francisco State University s public speaking coach and has taught Speech and Debate at UC Berkeley Extension, San Francisco State University, Pennsylvania State University, and Diablo Valley College. She has also been a debate coach for Piedmont High School and Berkeley High School in the San Francisco Bay area.

Ms. Balakrishnan holds a MS in Communicative Disorders, and she is certified by the American Speech and Hearing Association and licensed by the State of California to practice as a speech-language pathologist. After working with over two thousand students in the public school system, she created the Yoga for Stuttering program for people who stutter, who have not been helped by traditional means. She presently maintains a private practice in the San Francisco Bay area."
Praise For Yoga for Stuttering: Unifying the Voice, Breath, Mind & Body to Achieve Fluent Speech…
"J. M. Balakrishnan combines and bridges different traditions. This will help people."
—June Peterson, CCC, American Speech-Language-Hearing Association Speech and Language Pathologist

"I found this book fascinating, linking two bodies of research, Western science and Eastern philosophy. This book will be a resource for people who stutter and their families, and allows them to have a new insight into this difficult problem."
—Daniel J. Thwaites, MD, Modesto, California

"I greatly believe that a combination of eastern and western therapies works … this different process changes the way those who stutter think."
—Adriana Faiman, MSW, founder and director of bilingual school Escuela del Sol, Palo Alto, California.
Advertisement