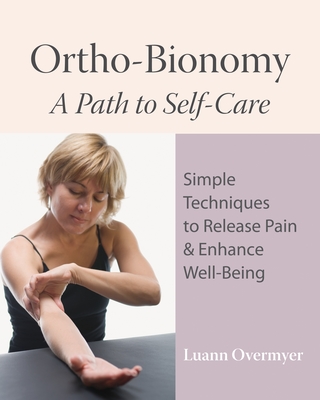 Ortho-Bionomy
A Path to Self-Care
Paperback

* Individual store prices may vary.
Description
Ortho-Bionomy is based on the premise that the body inherently knows how to heal and self-correct, given the opportunity. This user-friendly self-help guide by one of the pioneers of the approach presents positions, postures, and movements designed to release tension and ease pain. Not only are the techniques simple to perform, but they can be done on one's own, without the use of special equipment. Positions for each part of the body are clearly described in lay terms and illustrated with photos and drawings. Selected topics include low back, hip and knee pain, neck, shoulder, and rib releases, repetitive strain injuries, and arthritic pain in the hands. Quick fixes for sciatica, suggestions for dealing with menstrual cramps, and gentle movement exercises to address posture, scoliosis, and flexibility of the spine are just a few among 150 techniques described. The book also includes simple movements and exercises to increase ease, function, strength, and flexibility once the pain has subsided. Rounded out with human-interest stories and client examples, this accessible work can be used quickly and effectively by anyonewith pain.
Praise For Ortho-Bionomy: A Path to Self-Care…
"I am excited to have this book to share with my patients. It is a treasure trove of practical, safe, and gentle exercises for reducing pain and increasing physical comfort throughout the body. One does not need to be familiar with Ortho-Bionomy to get profound benefit from this volume. Ms. Overmyer has done a wonderful job of guiding people to listen within so they can hear the voice of their inner physician. Ortho-Bionomy: A Path to Self-Care is well written, easy-to-understand, and chock full of engaging photos and examples. I give this outstanding resource my highest recommendation."                                                                                                                 —Marcey Shapiro, MD, holistic physician and Ortho-Bionomy practitioner

"Ortho-Bionomy: A Path to Self Care is not only a wonderful self-help book for consumers, but also a valuable reference for practitioners. It … empowers each of us to take our physical care literally into our own hands. The clarity and simplicity of the explanatory information and self-care exercises that Luann provides make them accessible and understandable for a wide range of readers. With information for every region of the body, including extensive information on self-care and postural rebalancing for the spine and pelvis, this book is an essential guide to well-being."
—Kathy L. Kain, author Ortho-Bionomy: A Practical Manual

"Drawing on her years of interdisciplinary training, clinical practice, and personal experience, Luann Overmyer has written the definitive Ortho-Bionomy self-care guide. The thorough descriptions, abundant illustrations, and engaging examples make each exercise understandable and immediately practical. I have found her wealth of knowledge and expertise invaluable in both my own self-care as well as that of my clients and students. This is the "must have" resource for everyone who wants to experience ease, comfort, and balance in his or her own body."
—Bruce Stark, advanced instructor of Ortho-Bionomy and director of the Sydney
Ortho-Bionomy Training Institute

 "It's portable Ortho-Bionomy for everyone! What could be better? Images, stories, and instruction provide a fabulous resource in reach of anyone seeking to increase physical comfort and expand that sense of being at home in oneself. In the simple spaciousness of Ortho-Bionomy self-care practice, we can tap into deep healing from within, a place where mind, body, and spirit are not separate. You won't need special equipment or clothing, only your time and this sublime and very practical compendium."
—Christina Montes de Oca, advanced instructor and cofounder of the Ortho-Bionomy Practitioner Training Programs at the New Mexico Academy of Healing Arts

"This is a great collection of tools for patient self-care. Luann has been sharing these skills in her Ortho-Bionomy classes for over twenty-five years and now anyone can benefit from them by using this interactive book."                                                              
—Pete Whitridge, LMT, massage instructor at the Florida School of Massage, Gainesville, Florida

"This book is a valuable resource for taking care of your body. The level of specificity makes it very practical for self-care."
—Phillip Moffitt, director of the Life Balance Institute and author of Dancing With Life: Buddhist Insights for Finding Meaning and Joy in the Face of Suffering

"Ortho-Bionomy self-care exercises are a central part of my treatment of chronic pain patients. They are easy to perform and give people an immediate experience of their body's ability to improve. Ms. Overmyer brings a great depth and breadth of experience to the subject, both as a teacher and a lifelong student."                                                   
—Kalpesh R. Patel, Ortho-Bionomy practitioner, Outpatient Physical Therapy Department, University of Florida Orthopaedics and Sports Medicine Institute
North Atlantic Books, 9781556437915, 344pp.
Publication Date: December 15, 2009
About the Author
Luann Overmyer has worked with thousands of patients in her Ortho-Bionomy private practice. She teaches thirty seminars on the subject per year, mentors students and instructors, presents at conferences, and write articles for newsletters in the United States, Australia, and New Zealand. She divides her time between San Francisco, Australia, and Fort Pierce, FL.
or
Not Currently Available for Direct Purchase