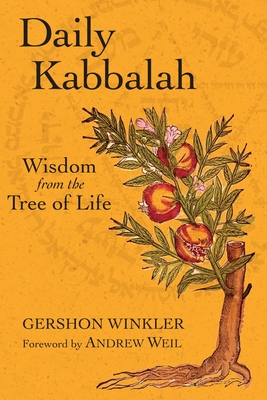 Daily Kabbalah: Wisdom from the Tree of Life (Paperback)
Wisdom from the Tree of Life
North Atlantic Books, 9781556437946, 374pp.
Publication Date: July 21, 2009
* Individual store prices may vary.
or
Not Currently Available for Direct Purchase
Description
This title familiarises readers with the ancient and medieval Aramaic and Hebraic texts and oral traditions from which this long-neglected body of wisdom originates. Aboriginal in nature, these teachings introduce a whole other dimension of Judaism which is largely unknown to mainstream Jewish tradition.
About the Author
Gershon Winkler is a widely recognized scholar in the fields of Jewish mysticism, theology, law, and lore, and has published fourteen books since 1980. In 1997, he founded (and is now executive director of) the Walking Stick Foundation, a nonprofit organization dedicated to the recovery and preservation of aboriginal Jewish spirituality. He lives in Thousand Oaks, CA.
Praise For Daily Kabbalah: Wisdom from the Tree of Life…
"There's an old Native American saying: 'If it doesn't grow corn, what good is it?' Gershon Winkler grows corn. He celebrates the wind. He is the friend of Spider, Magpie, and Lizard. He lives with storms. With the crash of lightning. With rainbows. In this masterful compendium you will have found an ally that can help you remember, realize, and see. This book has helped me to forge a deeper connection with my own indigenous ways in very much the same way Gershon has done with his."
—David Carson, Choctaw Elder and Pipe-Carrier, author of Crossing into Medicine Country, and coauthor of Medicine Cards and 2013 Oracle

"Winkler's knowledge is a universe away from the glib superficiality of pop mysticism and mass market 'spirituality.'"
—The Jewish Community Update, Sedona, Arizona

"Rabbi Gershon Winkler with wit and wisdom leads us to rediscover the more pagan and pantheistic mysteries underlying the ancient Hebrew tradition. He renders user-friendly the more cryptic teachings of lesser-known kabbalistic source texts and oral traditions in order to inspire and inform our lives. I highly recommend this book!"
—Andrew Weil, MD, author of Spontaneous Healing and Natural Health, Natural Medicine
Advertisement