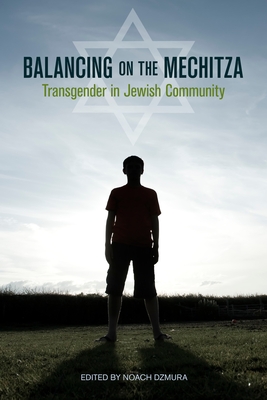 Balancing on the Mechitza
Transgender in Jewish Community (Io Series #66)
Paperback

* Individual store prices may vary.
Other Editions of This Title:
Digital Audiobook (1/11/2021)
Description
***WINNER, 2011 Lambda Literary Award - Transgender Non-Fiction

While the Jewish mainstream still argues about homosexuality, transgender and gender-variant people have emerged as a distinct Jewish population and as a new chorus of voices. Inspired and nurtured by the successes of the feminist and LGBT movements in the Jewish world, Jews who identify with the "T" now sit in the congregation, marry under the chuppah, and create Jewish families. Balancing on the Mechitza offers a multifaceted portrait of this increasingly visible community.

The contributors—activists, theologians, scholars, and other transgender Jews—share for the first time in a printed volume their theoretical contemplations as well as rite-of-passage and other transformative stories. Balancing on the Mechitza introduces readers to a secular transwoman who interviews her Israeli and Palestinian peers and provides cutting-edge theory about the construction of Jewish personhood in Israel; a transman who serves as legal witness for a man (a role not typically open to persons designated female at birth) during a conversion ritual; a man deprived of testosterone by an illness who comes to identify himself with passion and pride as a Biblical eunuch; and a gender-variant person who explores how to adapt the masculine and feminine pronouns in Hebrew to reflect a non-binary gender reality.
Praise For Balancing on the Mechitza: Transgender in Jewish Community (Io Series #66)…
"This groundbreaking collection addresses transgender and gender identity issues in Jewish law and community from diverse scholarly, religious and personal perspectives. Essays range from autobiographical to academic, including text studies and rituals. While diverse in nature, contributions share an emphasis on the struggle against binary notions and on the exploration of language, identity, and spirituality… I enjoyed the variety of contributions and found myself eager to keep reading… Recommended for academic, synagogue and community libraries.
—Amanda (Miryem-Khaye) Seigel, Librarian, Dorot Jewish Division, New York Public Library

"An unprecedented volume attending to the challenges and opportunities facing transgendered individuals committed to practicing Judaism… Balancing on the Mechitza: Transgender in Jewish Community, edited by Noach Dzmura, includes contributions from Rachel Biale, Chalotte Elisheva Fonrobert, and Joy Ladin, and ranges from a 'Ritual for Gender Transition (Male to Female)' to thoughtful readings of the figure of Androgynos in the Mishnah."
—Tablet Magazine

"An outstanding community of authors join together in Balancing on the Mechitza… Divided into three sections Torah, Avodah, and G'milut Chasadim, each chapter opens with an intelligent introduction guiding the reader into the essays and bridging the topic and Jewish text. The editor's note to each essay provides a linking thread."
—TCJewfolk

"Balancing on the Mechitza ranges widely across denominational lines, carefully including voices from across the spectrum of Jews, and also sex and gender ideologies—giving equal privilege to Reconstructionism and Orthodoxy, to genderqueers and full-medical-model transsexuals. The work is well-chosen, and a deft editor has been at work here—the prose is generally lively without verging into sameness… the balance of the book is also of high quality indeed. Crisp, fresh prose and a gentle humor characterize many of the pieces; both you-are-there stories of interactions with Jewish culture and longer discursive pieces that treat a broader topic."
—S. Bear Bergman, LambdaLiterary.org

"Overall, the book is enjoyable. … From reconciling Jewish identity as a form of gender, to the Jewish values of humor and debate as methods for accepting difference, it is precisely the Jewishness of the writers' experiences that mark their stories and make this text worth reading."
—Rachel E. Silverman, Journal of Jewish Identities
North Atlantic Books, 9781556438134, 288pp.
Publication Date: June 1, 2010
About the Author
Noach Dzmura is an instructor at the Progressive Jewish Alliance. His writings have appeared in  Sh'ma, the Jewish Chronicle (UK), Zeek: A Jewish Journal of Thought and Culture, and other publications. The recipient of the Haas-Koshland Award, he lives in Berkeley, CA.