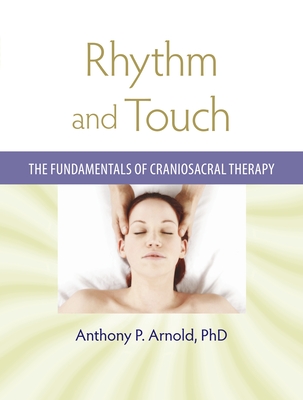 Rhythm and Touch: The Fundamentals of Craniosacral Therapy (Paperback)
The Fundamentals of Craniosacral Therapy
North Atlantic Books, 9781556438196, 255pp.
Publication Date: November 17, 2009
* Individual store prices may vary.
or
Not Currently Available for Direct Purchase
Description
This is a systematic, illustrated guide to the gentle, hands-on healing method for beginning and advanced practitioners of craniosacral therapy. It includes more than 100 instructional black-and-white photographs and illustrations.
About the Author
Anthony Arnold, PhD, has forty years of experience as a therapist, including twenty years as a body/holistic therapist and fifteen years teaching Craniosacral Therapy. He founded the Rhythm and Touch Association to explore the mind, body, and spirit interactions through the study of Shiatsu, Craniosacral Therapy, and massage. He lives near Santa Fe, NM.
Praise For Rhythm and Touch: The Fundamentals of Craniosacral Therapy…
"Anthony Arnold has crafted an exceptional textbook for craniosacral therapy. His descriptions are concise and present an easy-to-follow roadmap into the techniques of craniosacral therapy; but there is so much more here. His words beautifully capture the spirit of this work, the power of presence and intention, and the openness, allowing the wise body to embark on its healing journey. I highly recommend this book to students at all levels who are interested in exploring this powerful form of bodywork."
—Carl Johns, Director, McKinnon Body Therapy Center, Oakland, California

"Rhythm and Touch is a refreshing change in the landscape of educational texts. I love this book. It is warm, inviting, and practical. Arnold's delivery is intelligent and easy to digest, making it a well-rounded book for beginners, laypeople, and experienced practitioners alike. It is the next best thing to actually being in a class with a caring instructor."
—Ellen Mossman, CMT, craniosacral therapist and instructor, certified in Visionary Craniosacral Work

"Rhythm and Touch is a book that I loan to my clients when they want to learn more about craniosacral therapy. I have found that it is not only clear and accessible for bodywork professionals but also for our clients. His new edition goes into deeper detail which will be helpful for those who are interested in how craniosacral therapy relates to emotional, mental, and spiritual tension."
—Judith Sullivan, NCTMB, Diplomate-Craniosacral Therapy, and faculty, The Zero Balancing Health Association

"I first discovered Anthony Arnold's Rhythm and Touch nearly a decade ago, when searching for just the right textbook to accompany the Introduction to Craniosacral Therapy classes I taught at the Center for Natural Wellness School of Massage Therapy in Albany, New York. Even in the book's original small format, Arnold presented, through text, illustrations and photos, the perfect blend of what it takes to be a successful craniosacral therapist: compassion; presence; knowledge of oneself and the human body; the ability to slow down and listen; and, of course, curiosity and enthusiasm.

"This new edition of the book offers even more. With his usual clarity, Arnold has expanded on the fundamentals of craniosacral therapy, and even pushed ahead into more advanced material, including specific techniques for the face and jaw. Equally valuable are his inclusion of case studies, discussion of therapeutic dialoguing, and his graceful, practical suggestions for both teaching and learning. Throughout, Arnold reminds us that what is paramount to any healing practice is the intentional well-being of the practitioner. For new and emerging craniosacral practitioners, Anthony Arnold's Rhythm and Touch continues to be the ideal textbook."
—Margery Chessare, LMT, BCST, craniosacral therapist and educator, founder and co-director, Saratoga Integrative Practitioners Network

"Rhythm and Touch is the best basic book on craniosacral therapy that I know of. We have been using this wonderful book since the start of our school almost twelve years ago. It is indispensable. We have not used any other book, although we have looked at several. Craniosacral Therapy is not an easy course but this book makes it understandable for the students."
—Craig S. Anderson, LMT, director, Ogden Institute of Massage Therapy
 
"This is the best book we've ever used for our craniosacral training. It is comprehensive and easy to follow. Our students and instuctors have only good things to say about it. Thank you for making this book available to our school."
—Dr. Jack Weaver, director, Northwest Academy of Healing Arts
Advertisement