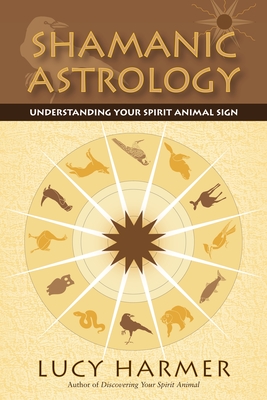 Shamanic Astrology: Understanding Your Spirit Animal Sign (Paperback)
Understanding Your Spirit Animal Sign
North Atlantic Books, 9781556438264, 250pp.
Publication Date: October 20, 2009
Description
Western-based astrology has a provocative counterpart in the Native American medicine wheel, with a spirit animal equivalent for each sign of the zodiac. In this thoughtful book, Lucy Harmer shows readers how to find the spirit animal that corresponds to their birth sign. She provides detailed descriptions of the strengths and weaknesses of each of the twelve spirit animals--for example, falcon is enthusiastic and adventurous but can be impulsive and impatient, while deer is sociable and eloquent but can be lazy and superficial. Once readers determine their spirit animal, they can better understand their relationships with family, friends, and associates. Readers can also discover those people who are part of their animal clan and the various compatibilities and incompatibilities between all the spirit animals. They will be able to uncover the hidden treasures of their personalities and their secret talents, as well as the color, plant, and totem stone corresponding to each spirit animal. For readers who want to take shamanic astrology to the next level, the book includes the first complete lunar calendar for the Northern and Southern Hemispheres to help them determine their spirit animal rising sign and discover how the moon influences their daily life.
About the Author
Lucy Harmer is an international author and teacher, whose other books include "Discovering Your Spirit Animal: The Wisdom of the Shamans." As a shamanic practitioner Lucy has studied and worked with meditation teachers and shamans from around the world. She has been a feng shui and space clearing consultant since 1994 and has been personally trained for more than fifteen years in the art of space clearing and feng shui by a Balinese priest.

Lucy is an acclaimed speaker at alternative health and well-being events worldwide, has published articles in international media, and appears regularly on Swiss television. She is also founder and director of the Innerelf Centre, a thriving business that promotes transformative and inspirational living. Lucy is currently based in Switzerland. You can visit her at www.innerelf.com.
Praise For Shamanic Astrology: Understanding Your Spirit Animal Sign…
"A fascinating fusion of astrological and shamanic insight on the nature of our being."
—Judy Hall, author of the international best-selling books The Astrology Bible, The Crystal Zodiac, The Crystal Bible, Patterns of the Past, and Karmic Connections

"For anyone wishing to explore more deeply the effect of animals in our life, Shamanic Astrology is a wonderful guide. Combining earth astrology, Native American teachings, and practical guidance into the subtle connections between animals, humans, and Nature, this book will lead you to a deeper understanding of the natural rhythms of life and the wonders we can achieve when we tap into them."
—Ted Andrews, author of the international best-selling books Animal-Speak, Animal-Wise, and Nature-Speak

"Shamanic astrology is a subject rarely discussed, and often denigrated; those for whom astrology involves both mysticism and science often reject it. Lucy Harmer has written an unusually interesting book on one aspect of it: the relationship between man and woman and the individual 'spirit animal' associated with the birth sign. What she says, whether or not one accepts it, is at once informative and entertaining. Pick it up for enjoyment—you won't put it down without having learned something unusual, fascinating, and useful."
—Derek and Julia Parker, world-renowned astrologers and authors of the international best-selling books Parker's Astrology, The Compleat Astrologer, The Complete Book of Dreams, Love Signs, and The Sun and Moon Signs Library

"Detailed and insightful, Lucy Harmer's book is a fascinating fusion of astrology and the wisdom of nature that can lead you to a deeper communion with yourself, the earth, and all life."
—Brandt Morgan, author of Vision Walk

"Shamanic Astrology is a unique, thorough, and systematic explanation of the relationship between the various elements of shamanism and how these influence our personalities and our choices. Lucy Harmer has done an exceptional job of bringing these two systems together and making these relationships easily understood and useful for anyone."
—Dr. Steven Farmer, author of Earth Magic and Animal Spirit Guides

"Civilization, drawn further and further away from indigenousness and more into industrialization, is hearing the cry and call of nature to return to her wisdom. Shamanic Astrology provides us with indispensable tools to begin the journey and to explore the deep mysteries of the natural world. This is a guidebook to a more harmonious and skillful relationship with our planet."
—Malidoma Patrice Som?, shaman, teacher, and author of Of Water and the Spirit

"Thank you for the simplicity and depth of knowledge that you share in this wonderfully engaging book. It is a delight to read, filled with shamanic insight. The lunar calendars make this book complete and truly unique in its field. It is a valuable addition to any book collection."
—Pip Waller, author of Holistic Anatomy: An Integrative Guide to the Human Body

"Lucy Harmer's book is an in-depth look at shamanic astrology from an experienced point of view. She has studied the subject in great detail, yet her writing shares simply with the reader how easy it is to follow this natural path of shamanism. Lucy is a gifted teacher of our earth-centered traditions and a true wisdom keeper of our ancient knowledge. After reading this book you will have a deeper understanding of the circle of life."
—Barbara Meiklejohn-Free, The Highland Seer, best-selling and award-winning author of The Heart of All Knowing: Awakening Your Inner Seer

"Lucy Harmer grounds her work on animal and plant spirits within the greater circle of life, the medicine wheel or solar-lunar mandala of the four cardinal directions and center. While her primary in-depth focus is on the individual characteristics of each sign (and each shamanic animal), she places them within the profound calendric structure of holy days and cardinal directions marking spring, summer, fall, and winter, even allowing for differences in northern and southern hemispheres. One of my favorite subjects and really well done!"
—Vicki Noble, cocreator of Motherpeace, author of Shakti Woman, The Double Goddess, and Rituals and Practices with the Motherpeace Tarot, and teacher in the Women's Spirituality Program at Institute of Transpersonal Psychology (ITP)

"Lucy Harmer's style is simple and her astrological information amazingly accurate. With excellent portrayal of the shamanic animal kingdom, her book is an inspiration to us all."
—Mark Woodley, astrological schools director of the British Astrological and Psychic Society (BAPS)

"Shamanic Astrology provides a map that navigates the territory of all life, seen and unseen. Lucy Harmer's in-depth guide charts the sacred and ancient journey 'round' the medicine wheel. Along the way you can meet and embrace your spirit animal, element, plant, and so much more. This book brings Earth Path teachings alive."
—Trishuwa, earth medicine teacher and founding member of the Foundation for Gaian Studies

"It is often said 'there is nothing new' and although Lucy Harmer's revelations about our selves and our relationships are from one of the oldest sources known to modern man, she explains the art of interpreting this 'medicine wheel' in a refreshingly uncomplicated manner. Her book is deeply revealing about the way we humans behave and it shows how we can apply this knowledge to our current lives and how it can prepare us for the unseen future. As an avid follower and admirer of ancestral ways and wisdoms, I highly recommend this book to anyone who wishes to explore themselves, and their part, in this amazing world of ours."
—Kate Osborne, former editor of Kindred Spirit magazine and founder of Solarus Foundation

"Lucy Harmer is a true spiritual journeyman. In her new book she has sympathetically and effectively linked Western astrology with the shamanic path. Shamanic Astrology embraces in detail the energies, characteristics, and traits of the spirit animals with our astrological signs, thus giving new and deeper insights into understanding ourselves and others."
—Pauline B. Edwards, High Priestess and teacher of the Celtic Shamanic Path

"I am definitely a Falcon; I am pioneering Sophro-ki Sophrology in the world and love new innovations. When I looked up the compatible animals for people close to me, the descriptions fit my friends and family exactly! Lucy Harmer's knowledge, intuition, and wisdom have a way of being very accurate, being extremely helpful, and arriving at just the right time. If you are looking at this book, it probably means that it is the right time for you to become acquainted with your own spirit animal traits."
—Dorna Wilson Revie, founder and director of the International Sophrology Training Centre

"Lucy Harmer's shamanic astrology book is truly amazing. I use it in my work every day as a therapist to help people understand their personality and find their pathway through life."
—Jean-Francois Beltrami, counselor and kinesiologist

"My friend and I spent Saturday night at home; we enjoyed reading the different animal portraits so much that we forgot to go out! We were so surprised to find how closely the descriptions mirrored all the relationships in our lives."
—AniMary Girard, humanist astrologer and editor of Soins Alternatifs (Alternative Health) magazine

"Shamanic Astrology is a unique literary gift for those seeking meaningful understanding into the secrets of Global Living Nature, and for those who have a humble reverence for the Sacred Family of Life. It will inspire all."
—Chief Sonne Reyna, Yaqui-Carrizo Nations of North America, World Council of Elders, and Sun Dance Peace Chief
Advertisement