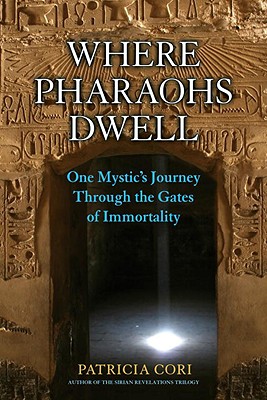 Where Pharaohs Dwell: One Mystic's Journey Through the Gates of Immortality (Paperback)
One Mystic's Journey Through the Gates of Immortality
North Atlantic Books, 9781556438301, 229pp.
Publication Date: November 24, 2009
Description
In this thought-provoking book, Patricia Cori takes time from her channelled work as the Scribe to the Speakers of the Sirian High Council to focus on her past-life experiences in ancient Egypt.
About the Author
Patricia Cori has dedicated her life to the study of mysticism and philosophy, ancient civilizations, shamanism, metaphysical healing, and extraterrestrial life. In 1995, she founded the Light-Works Association, a nonprofit healing center and New Age Library. The author of "The Cosmos of Soul, Atlantis Rising," and many other books, she lives in Rome, Italy.
Praise For Where Pharaohs Dwell: One Mystic's Journey Through the Gates of Immortality…
"Sealed in a tomb and left to die. Would you still remember that experience thousands of years later? Patricia Cori does. She travels to the dusty Egypt of today in search of its golden past-and a more personal revelation. Cori uncovers the mystery of her own past life and heals an ancient betrayal. Where Pharaohs Dwell weaves crystal-clear spiritual teachings with amazing personal experiences in this page-turning adventure."
—Theresa Crater, author of Under the Stone Paw and Beneath the Hallowed Hill
"Patricia Cori has written a fascinating book as part of her contribution to this grand human experience now unfolding. Drawing on her own powerful experiences and strong intuitions, she presents a real page-turner that one will not want to put down once started. Patricia takes the reader on her personal and unique journey to reclaim a "part" of herself-that being her profound connection to 'dynastic' and prehistoric Khemit, the Mother of Civilizations."
—Stephen Mehler, author of Land of Osiris and From Light into Dark
"Patricia Cori is the real-life Indiana Jones! The film version of this incredible book is sure to follow.…"
—Patty Greer, award-winning filmmaker, producer of 2012? We're Already in it!
"Where Pharaohs Dwell is a real spine-tingler—I finished it with great hope for the future!"
—Christopher Rudy, host of The Cosmic Love Show on bbsradio.com
"This is a book that I just couldn't put it down. You feel like you are right there with Patricia through the whole journey. She presents the story with honesty, humility and without watering down her metaphysical experiences."
—Starseed Shaman
"Patricia Cori is a tremendous gift to us all. She has honoured the call of her Soul, and walks as an example of one dedicated to service of the awakening human spirit. Her multidimensional agility in conversation, grounded in her rich personal life experience, offered such sweet music for the dance we shared with all of the listeners, and more to come, who will enjoy the archives. Many thanks to you, Patricia, for your courage and for choosing to be with us all at this time."
— DJamil Graham, Alchemy of Light Broadcast, BBSRadio.com

"Patricia Cori is one of the most fascinating, charismatic, articulate, knowledgeable and intriguing guests I ever had on The Paranormal Show. I was so captivated by Patricia that the hour interview passed by like a flash of light. When the folks in the control room at the TV station gave me the instructions in my earpiece to wind down the show as we were nearing the end of it, I had to look at my watch to validate that I was being given the correct message. She is a class act, both on the inside and the outside. Needless-to-say, Patricia will be a welcome guest on my show whenever her travels take her to Canada."
—Stan Mallow, Host, The Paranormal Show 
Advertisement