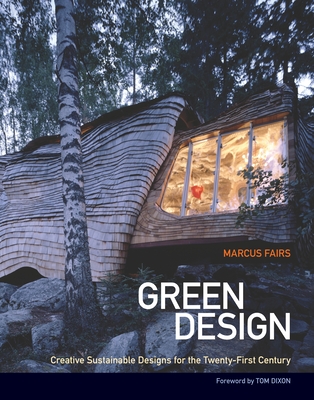 Green Design: Creative Sustainable Designs for the Twenty-First Century (Paperback)
Creative Sustainable Designs for the Twenty-First Century
North Atlantic Books, 9781556438363, 253pp.
Publication Date: September 22, 2009
Description
In this timely book, author Marcus Fairs helps readers understand the shift of green design from marginal to mainstream by featuring products and buildings that address immediate concerns about global warming and environmental degradation. Through vast architectural projects to modest one-off pieces of salvaged furniture, the book shows how the design world is responding to the environmental challenges of this century. Author Fairs demonstrates key developments in sustainable design as seen in lighting, houseware, furniture, textiles, products, interiors, architecture, and transportation, including the innovative use of fuel-cell technologies and ultra-lightweight materials.
The book shows how the introduction of eco-friendly materials is changing the products around us and charts the rise of low-energy lighting sources and their impact on lighting design. Emerging trends in green design are also covered, from recycling (reusing existing objects to create new products) to ethical sourcing (ensuring products come from sustainable sources). By presenting existing green innovations as well as visionary projects, Green Design paints a bright future in which technology and ethics merge for the benefit of people and the planet.
About the Author
Marcus Fairs is the editor of the online design magazine Dezeen and the former founding editor of the British architecture and design magazine icon. He has written about architecture and design for many publications, including Blueprint, The Guardian, The Independent on Sunday, and Conde Nast Traveler. A regular guest on national media, helives in London."
Praise For Green Design: Creative Sustainable Designs for the Twenty-First Century…
"Green Design is a choice pick for those who are truly dedicated in reducing their impact on the planet."
—Midwest Book Review
"Exploring the most cutting-edge, worldwide architectural design, Green Design is a beautiful perplexing collection of sustainable strangeness and eco-oddities.… While much of the book is occupied with genuinely feasible efforts at eco-solutions, much of its charm is in those ideas that use the environmental brief to create stylish, eccentric pieces."
—KUDOS Magazine
"The book is a carefully edited and crafted catalogue of beautiful things...I love almost every page of it."
—Treehugger.com
"What I particularly like about this book is that it doesn't feel like someone is bearing down on you to be an environmental junkie. It educates you about some of the more creative green concepts out there."
—Holiday Matinee
"By presenting existing green innovations as well as visionary projects, Green Design paints a bright future in which technology and ethics merge for the benefit of people and the planet."
—New Consciousness Review

"In case you haven't noticed, the "green" movement is gaining steam around the world… This book looks at how many things in our lives can be or are designed with the environment and our health in mind."
—Bookideas.com
Advertisement