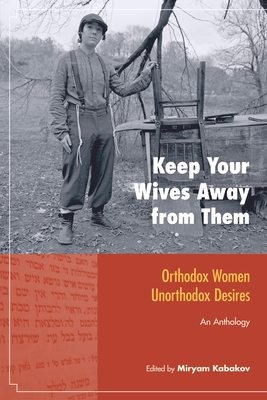 Keep Your Wives Away from Them
Orthodox Women, Unorthodox Desires (Io Series #65)
Paperback

* Individual store prices may vary.
Description
***WINNER, 2011 Golden Crown Literary Award - Anthology

Reconciling queerness with religion has always been an enormous challenge. When the religion is Orthodox Judaism, the task is even more daunting. This anthology takes on that challenge by giving voice to genderqueer Jewish women who were once silenced—and effectively rendered invisible—by their faith. Keep Your Wives Away from Them tells the story of those who have come out, who are still closeted, living double lives, or struggling to maintain an integrated "single life" in relationship to traditional Judaism—personal stories that are both enlightening and edifying. While a number of films and books have explored the lives of queer people in Orthodox and observant Judaism, only this one explores in depth what happens after the struggle, when the real work of building integrated lives begins. The candor of these insightful stories in Keep Your Wives Away from Them makes the book appealing to a general audience and students of women's, gender, and LGBTQ studies, as well as for anyone struggling personally with the same issue. Contributors include musician and writer Temim Fruchter, Professor Joy Ladin, writer Leah Lax, nurse Tamar Prager, and the pseudonymous Ex-Yeshiva Girl.


Keep Your Wives Away from Them official website: http://www.keepyourwivesawayfromthem.com/
Praise For Keep Your Wives Away from Them: Orthodox Women, Unorthodox Desires (Io Series #65)…
"Jews with unconventional identities should not have to wrestle alone at the intersection where their tradition seems to clash with their integrity as loving human beings. Like Moses responding to the travail of his brothers (Ex. 2:11), a caring halachic Jewish community should respond seriously to the heartfelt appeal of our contemporary sisters."
—Rabbi Dr. Tzvi C. Marx, author of Disability in Jewish Law

"Moving. Challenging. Frustrating. Exhilarating. Important reading for all, indispensible for some. This book will save lives and heal souls, and it is sure to be banned in some circles because of that."
—Shaul Kelner, assistant professor of sociology and Jewish studies, Vanderbilt University, and author of Tours that Bind: Diaspora, Pilgrimage, and Israeli Birthright Tourism

"Each powerful essay challenges my preconceptions about the nature of religious lives and communities, about gendered selves, and about the delights and constraints of Orthodox Judaism. Keep Your Wives Away from Them is a complex spirit journey that speaks of the longing for love and the search for comforting and comfortable identities."
—Vanessa L. Ochs, associate professor of religious studies University of Virginia, and author of Inventing Jewish Ritual

"At last the Jewish feminist bookshelf will include the reflections of Orthodox LBTQ women, and what reflections they are! Lyrical, honest, painful, smart, triumphant, and powerful, this book invites all of us into the richness and complexity of Orthodox LBTQ life and should be read by anyone who cares about Judaism and Jewish life, as well as religion and sexuality."
—Riv-Ellen Prell, professor of American studies, University of Minnesota, and editor of Women Remaking American Judaism

"[Keep Your Wives Away From Them] tells the stories of 14 women who were at one point in their lives silenced and made invisible by the conflict between their sexual, religious and cultural identities. [This book] presents a range of voices from people have come to terms with their identity as women-loving women and integrated this identity, in one way or another, with their identify as traditionally observant Jews."
—TCJewFolk.com

"Kabakov's collection of fourteen personal and scholarly essays not only acknowledges Jewish dykes, it argues that as long as Orthodox Judaism exists, there will be Orthodox LGBTQ people. The anthology includes the voices of diverse women, all of them bound by a desire to maintain a connection to traditional Jewish life—reciting daily prayers, keeping kosher, going to a monthly mikveh after menstruating, observing the Sabbath—but with a female partner… Keep Your Wives Away from Them is a bold plea for tolerance."
—Feminist Review

"This engaging, touching, sometimes hilarious, and sometimes heart-breaking anthology brings together the voices of queer Jewish women from across the gender spectrum. Experienced scholars of Judaism and relative neophytes alike will come away with a deeper understanding of Jewish tradition, Jewish law, Jewish gender construction, and the interaction of gender and religiosity… The essays in this volume strike a nice balance between personal, confessional narrative, and scholarly discourse on Judaism and rabbinic law… The result is a collection of essays that both enlighten the reader on important matters of gender and sexuality with Judaism while also conveying a sense of what it means and looks like to live as an Orthodox woman—whether lesbian, trans, or somewhere else on the gender spectrum."
—New York Journal of Books

"One of the best features of Keep Your Wives Away From Them is a resource guide at the end of the book which includes websites of synagogues, schools, and Jewish organizations that provide education, support, and socialization opportunities for religious LGBT Jewish people… libraries with large LGBT and Jewish Studies collections should have a copy of this book on hand."
—LambdaLiterary.org

"A pioneering collection of essays about lesbianism in the Orthodox community."
—Tablet Magazine

"The bulk of the essays [in Keep Your Wives Away From Them are] personal statements about the women's efforts to reconcile the various parts of their identities and their need for finding community and family acceptance. Some of the essays are narrative while others are written in more poetic free forms. The volume includes a glossary of Jewish terms and an annotated list of Jewish LGBT resources. Recommended."
—Sheryl Stahl, Association of Jewish Libraries Newsletter

"Keep Your Wives Away From Them, perfect for women just coming out or for their families, has an honorable and useful place in the evolving history of our people."
—Lilith Magazine
North Atlantic Books, 9781556438790, 192pp.
Publication Date: May 11, 2010
About the Author
Miryam Kabakov is director of the Minneapolis Jewish Film Festival, national program director of AVODAH: The Jewish Service Corps, coordinator of LGBT programming at the Manhattan Jewish Community Center, and a frequent speaker and workshop leader. She lives in Minnesota.
or
Not Currently Available for Direct Purchase