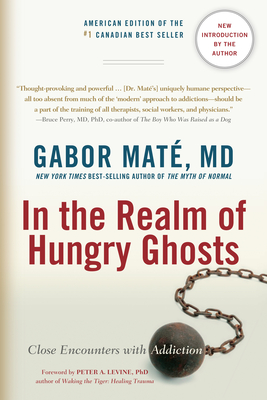 In the Realm of Hungry Ghosts
Close Encounters with Addiction
Paperback

* Individual store prices may vary.
Other Editions of This Title:
Paperback, Chinese (9/24/2020)
Description
From bestselling author Gabor Maté, the essential resource for understanding the roots and behaviors of addiction--now with an added introduction by the author.
Based on Gabor Maté's two decades of experience as a medical doctor and his groundbreaking work with the severely addicted on Vancouver's skid row, In the Realm of Hungry Ghosts radically reenvisions this much misunderstood field by taking a holistic approach. Dr. Maté presents addiction not as a discrete phenomenon confined to an unfortunate or weak-willed few, but as a continuum that runs throughout (and perhaps underpins) our society; not a medical "condition" distinct from the lives it affects, rather the result of a complex interplay among personal history, emotional, and neurological development, brain chemistry, and the drugs (and behaviors) of addiction. Simplifying a wide array of brain and addiction research findings from around the globe, the book avoids glib self-help remedies, instead promoting a thorough and compassionate self-understanding as the first key to healing and wellness.

In the Realm of Hungry Ghosts argues persuasively against contemporary health, social, and criminal justice policies toward addiction and those impacted by it. The mix of personal stories—including the author's candid discussion of his own "high-status" addictive tendencies—and science with positive solutions makes the book equally useful for lay readers and professionals.
Praise For In the Realm of Hungry Ghosts: Close Encounters with Addiction…
"A riveting account of human cravings, this book needs to get into as many hands as possible. Maté's resonant, unflinching analysis of addiction today shatters the assumptions underlying our War on Drugs."
—Norm Stamper, former Seattle Chief of Police and author of Breaking Rank: A Top Cop's Exposé of the Dark Side of American Policing

"In this brilliant and well-documented book, Gabor Maté locates the source of addictions in the trauma of an emotionally empty childhood, making it a relational rather than a medical problem. Such a radical thesis of cause leads to human connection rather than traditional treatment as the cure. This passionate and compassionate book, filled with scientific evidence and personal narratives, should be on the shelf of every person interested in the pervasive challenge of addiction."
—Harville Hendrix, PhD, author of Getting the Love You Want: A Guide for Couples and cofounder of Imago Relationship Therapy

"Dr. Maté's latest book is a moving, debate-provoking, and multi-layered look at how addiction arises, the people afflicted with it and why he supports decriminalization of all drugs, including crystal meth.… [In the Realm of Hungry Ghosts] reads not only as a lively textbook analysis of the physiological and psychological causes of drug addiction, but also as an investigation into his heart and mind."
—The Globe and Mail

"In this comprehensive and courageous book … Maté relates, with compassion and honesty, the poignant stories of severe substance addicts – the hungry ghosts, in Buddhist-realm terminology – whom he treats. And it is the addicts' stories and the clear logic of the latest science and statistics that Maté shares which convince the reader that society's attitudes toward, and treatment of, addiction must change. …. This 480-page tome, exhausting in delineating and substantiating its causes, remains a remarkably lyrical, engaging read."
—In Recovery Magazine

"It's time to give Maté … the Order of Canada for this erudite and sensitive book about the lives of Downtown Eastside intravenous-drug users, the neurobiology of addiction, and the folly of the war on drugs. It's compulsively readable and packed with new scientific discoveries about addiction. If you know the parent or sibling of an addict—or the prime minister, for that matter—please give him this book."
—The Georgia Straight

"I recommend this wonderful book for anyone struggling with the heartache of addiction personally or professionally. Dr. Maté makes the thought-provoking and powerful arguments that human connections heal; and that the poverty of relationships in the modern world contribute to our vulnerability to unhealthy addictions of all manner. His uniquely humane perspective—all too absent from much of the 'modern' approach to addictions—should be a part of the training of all therapists, social workers, and physicians."
—Bruce Perry, MD, PhD, Senior Fellow, Child Trauma Academy, Houston, and coauthor of The Boy Who Was Raised as a Dog

"Gabor Maté's connections—between the intensely personal and the global, the spiritual and the medical, the psychological and the political—are bold, wise and deeply moral. He is a healer to be cherished and this exciting book arrives at just the right time."
—Naomi Klein, author of No Logo and The Shock Doctrine

"With unparalleled sympathy for the human condition, Gabor Maté depicts the suffocation of the spirit by addictive urges, and holds up a dark mirror to our society. This is a powerful narrative of the realm of human nature where confused and conflicted emotions underlie our pretensions to rational thought."
—Dr. Jaak Panksepp, Distinguished Research Professor of Psychobiology, Bowling Green University, Adjunct Professor of Psychiatry, Medical College of Ohio, and author of Affective Neuroscience

"With superb descriptive talents, Gabor Maté takes us into the lives of the emotionally destitute and addicted human beings who are his patients. In this highly readable and penetrating book, he gives us the disturbing truths about the nature of addiction and its roots in people's early years–truths that are usually concealed by time and protected by shame, secrecy, and social taboo."
—Vincent Felitti, MD, Clinical Professor of Medicine, University of California, and Co-Principal Investigator, Adverse Childhood Experiences Study

"Dr. Gabor Maté distills the suffering of injection-drug users into moving case histories and reveals how clearly he himself, as a music collector and workaholic physician, fits his own definition of addiction. Informed by the new research on brain chemistry, he proposes sensible drug laws to replace the War on Drugs. Inspired by the evolving spirituality that underlies his life and work, he outlines practical ways of overcoming addiction. This is not a fix-it book to hurry through, but a deep analysis to reflect upon."
—Dr. Bruce Alexander, Professor Emeritus (Psychology), Simon Fraser University, and author of The Globalization of Addiction

"A harrowingly honest, compassionate, sometimes angry look at addiction and the people whose lives have been disordered by it."
—Ottawa Citizen

"Gabor Maté's latest book is a sprawling but fascinating look at addiction that is part science, part diatribe, part character study, and part confessional.… The writing is powerful.… the book leaves the reader with a profound sense of empathy and understanding for some of society's most marginalized victims.
—Quill & Quire

"[E]xcellent.… One of the book's strengths is Maté's detailed and compassionate characterization of the afflicted addicts he treats…a calm, unjudging, compassionate attentiveness to what is happening within."
—The Walrus

"Maté's subjects are the living, breathing embodiment of Canada's grimmest statistics for HIV/AIDS, hepatitis, homelessness, crime, abuse, neglect, overdose, and death. More than merely poor and disenfranchised, they are truly the lowest of the low, reviled by society and demonized by law enforcement. [In the Realm of Hungry Ghosts] is enormously compelling and Maté is admirably, sometimes inexplicably, empathetic to all who cross his path."
—Toronto Star

"I highly recommend Hungry Ghosts to everyone seeking insight into addiction. Gabor Maté's masterful and impassioned treatment of the topic is a welcome relief from the tired old thinking that has kept us from dealing effectively with it for the last 100 years."
—Gerald Thomas, Centre for Addictions Research, for the Vancouver Sun

"It seems odd to use the word 'beautiful' to describe a book that focuses, frequently in graphic, unrelenting detail, on the lives of some of the most hopeless outcasts of our society: the hard-core street addicts with whom Dr. Gabor Maté works. Yet that's the word that came repeatedly to mind as I read In the Realm of Hungry Ghosts. It's not only the grace of Maté's writing, though that's certainly a great part of it. It's the sense of compassion that infuses the entire book, the author's continued faith in and affection for the men and women with whom he works, even when he is the victim of their drug-fueled abuse, racial epithets, and thefts. Maté offers no easy fixes (pun intended), but does offer hope and understanding."
—Hal Goodman, The Record (Kitchener, Cambridge, and Waterloo)

"In the Realm of Hungry Ghosts looks at addictions, how they work, who experiences them and what can be done.… The book is a survey of scientific evidence on addiction, but it is haunted by Maté's patients who are wrestling with poverty, violence, mental illness, drug addiction, HIV/AIDS, hepatitis, the authorities, their pasts. We read about the depths of addiction, but also the persistence of humanity under the worst of conditions.… That the well-off and the destitute are considered together in this book reminds us that addiction transcends class."
—The Gazette (Montreal)

"I highly recommend In the Realm of Hungry Ghosts to anyone interested in deepening his or her understanding of all types of addictive behavior. With Dr. Gabor Maté's help, the foundation is being made to reexamine how to treat addiction from a new premise that engages and honors the heart and soul of humanity."
—HealthyNewAge.com

"[Gabor Maté] has sought to draw a map for human understanding of people scorned, neglected and persecuted by society."
—SeattlePI.com

"In Hungry Ghosts, Maté compellingly tells the often desperate and heartbreaking stories of his patients, and calls for a new drug policy paradigm that is grounded in both science and compassion."
—Real Change News

"[In the Realm of Hungry Ghosts] is a taste of a different kind of victory—over our own impulses to leave 'undeserving' souls outside the human circle of affection and good will."
—Crosscut.com

"[In the Realm of Hungry Ghosts] shows an unflinching look at addiction… Dr. Maté makes observations that cut through all the myths and misinterpretations about addicts and how they live… There are many nuggets of wisdom and insight throughout the book. Readers can literally pick up the book and leaf to any chapter and begin reading—and learn something valuable. It's never boring, never condescending, never too much to read."
—Addiction Treatment Magazine

"Dr. Gabor Maté has made an important contribution to the literature on drug use and addiction… Maté doesn't just rely on anthropology and anecdote. He takes the reader instead into an extended look at the research on early childhood development and identifies messed-up childhoods as the key indicator of future substance abuse (as well as many other) problems. It doesn't have to be as extreme as some of these cases, but Maté makes clear that a nurturing early up-bringing is absolutely vital to the development of mentally and emotionally stable human beings… This is good, strong, compassionate, highly informed reading. I heartily recommend this book to anyone with an interest in addiction, addiction treatment, early childhood development, or drug policy."
—Drug War Chronicle

"As a person who has struggled with addiction and worked with recovering addicts, I'm pleased to see that someone is bold enough to write holistically and compassionately about addiction. My hope is that this book gets talked about and utilized in treatment circles worldwide."
—iCreateHabits.com

"A very useful book for any of us who seek to bridge the gap between Buddhism and Western psychology."
—Integral Options Café

"Dr. Maté approaches addiction with a new attitude and U.S. doctors and medical caregivers should listen up."
—Daily Kos

"In the Realm of Hungry Ghosts is a valuable book: one that will repay the time and energy of anyone looking for a deeper insight into the haunted world of addiction."
—Best-SellingBooks.com

"[In the Realm of Hungry Ghosts] will challenge and change your views on addiction… Compared to other books I have read written by physicians, Gabor has a deep humbleness about his role and actions. He looks not only at the lives of his patients but at his own shortcomings. I devoured this book page by page—it is more than a book on addiction, it is on what makes us human."
—Ex Libris

"[In the Realm of Hungry Ghosts] is quite unlike any book or documentary I've ever seen about the topic of addiction… This book allows the reader to become a spectator of the treatment of addicts—the people considered on the bottom level of society."
—A Book of Days

"In the Realm of the Hungry Ghosts calls for a sharp departure from the crime and punishment model of treating drug addicts."
—DrugRehabilitationThatWorks.com

"Dr. Gabor Maté, a Vancouver-based physician specializing in addictions explains in his book In The Realm Of Hungry Ghosts that criminalization and coercion do nothing but perpetuate the War On Drugs… Dr. Maté further explains that a far better way to approach drug addiction is through a process called harm reduction, which has more to do with compassion and empathy, not ostracism and punishment, and which encourages a gradual reduction of addiction."
—The Ithaca Journal

"In the Realm of Hungry Ghosts provides essential reading for anyone who has ever been a parent, fetus, young child, child care worker, teacher, or physician… [Gabor Maté's] empathy toward the addicts he treats is compelling, as he links degrees of neglect and trauma described by these hapless, unloved patients to his early upbringing. He has scrutinized his own issues by entering the realm of twelve-step, cognitive treatments that have allowed critical shifts in his own behavior."
—San Francisco Medicine Magazine

"In the Realm of Hungry Ghosts looks at the roots and ramifications of addiction (and not just to illicit substances). He approaches the subject from multiple angles, showing that addiction originates and plays out in personal feelings and experiences, body chemistry, societal structure and cultural attitudes."
—Beams and Struts

"The stories are raw and [Maté's] ideas are sometimes controversial. He presents them in well reasoned language accessible to the lay reader."
—A Strangely Insane Blog

"The book opens with specific stories of addicts who Dr. Maté has worked with and interviewed. He not only gives us a brief history of what the person suffered, but describes his interactions with a compassion that many people, addicted or not, rarely experience. He neither blames the addict nor bans them to pathetic victim hood – he brings out the ultimate humanity in each person… It's rare that a book will take a subject such as a crippling and controversial social issue and make it accessible, even more rare that a book on this subject provides an uplifting vision of hope. I recommend that everyone read this book… [it] feeds the heart as well as the mind."
—M. M. Sullivan, The Vapor Trail Gallery

"Dr. Maté presents addiction not as a discrete phenomenon confined to an unfortunate or weak-willed few, but as a continuum that runs throughout (and perhaps underpins) our society; not a medical "condition" distinct from the lives it affects, rather the result of a complex interplay among personal history, emotional, and neurological development, brain chemistry, and the drugs (and behaviors) of addiction. Simplifying a wide array of brain and addiction research findings from around the globe, the book avoids glib self-help remedies, instead promoting a thorough and compassionate self-understanding as the first key to healing and wellness."
—Book Galaxo

"Gabor Maté's latest book effectively demolishes the belief that addictions arise from chemical imbalances, genetics, or bad choices… In the Realm of Hungry Ghosts condemns society for depriving human beings of what they need to thrive and then persecuting and punishing them for using drugs to relieve their pain… well-written, engaging."
—Dissident Voice

"In the Realm of Hungry Ghosts is a poignant and illuminating treatise on the nature of addiction. Maté, a physician in Vancouver's Downtown Eastside, has been treating poor and homeless people addicted to various drugs, particularly cocaine, heroin, and methamphetamine, for many years and in this account his insights into the physiological, sociological, psychological, and political-economic nature of addiction are stunningly elucidated… exceptionally clearly-written and readable… Too many books are described as essential reading, but for anyone who has ever been touched in any way by substance abuse or other addictions, or for anyone who knows someone who has, and especially for anyone dealing professionally with medical and policy issues related to addictive drugs, this book simply must be read. Its importance cannot be overstated."
—The Erowid Review

"If there is one theme the readers of In the Realm of Hungry Ghosts will take away with them is the persuasive argument the author presents that the present-day 'war on drugs' is both a war on victims and a flawed social policy. It is without merit and will fail. Governments, especially in the U.S., have gained nothing in this exercise of futility except garnering a higher percentage of incarcerated individuals than any country of the world… Recommended with enthusiasm."
—The Primal Psychotherapy Page

"In the Realm of Hungry Ghosts looks at the epidemic of addictions in our society, why people are so prone to them and what is needed to liberate ourselves from their hold on our emotions and behaviours."
—Women's Health Matters

"[Gabor Maté], a front-line professional combating addiction in Canada, questions the premise that addiction is a choice that people make. If people are diseased or predisposed or making a moral compromises through their own free will, then society is allowed to simplify a complicated issue and avoid any share of the responsibility. For instance, the thesis of this book criticizes the criminal justice's unscientific assumption that drug addicts are culpable because they choose to do drugs. Does that make sense – people want to, choose to be addicted?"
—Addiction Magazine
North Atlantic Books, 9781556438806, 536pp.
Publication Date: January 5, 2010
About the Author
Gabor Maté, MD, is a physician, author, seminar leader, and acclaimed public speaker. His bestselling books include Scattered, When the Body Says No, and Hold onto Your Kids. A former medical columnist for The Vancouver Sun and The Globe and Mail, he lives in Vancouver, BC.