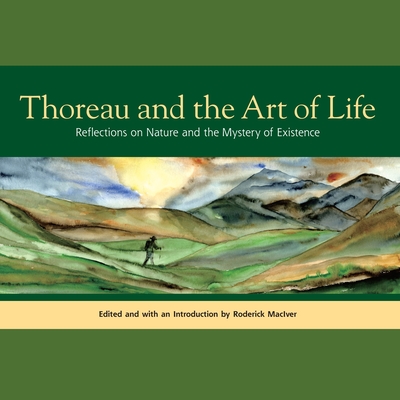 Thoreau and the Art of Life: Reflections on Nature and the Mystery of Existence (Paperback)
Reflections on Nature and the Mystery of Existence
North Atlantic Books, 9781556438837, 95pp.
Publication Date: March 16, 2010
Description
Featuring nearly 100 luminous watercolor illustrations, Thoreau and the Art of Life collects eloquent passages from the writings of the seminal author and philosopher. Drawn mainly from his journals, the short excerpts provide fascinating insight into his thought processes by presenting his raw, unedited feelings about the things that meant the most to him. The book reflects Thoreau's deep beliefs and ideas about nature, relationships, creativity, spirituality, aging, simplicity, and wisdom. By eloquently expressing his thoughts about life and what gives it value, he leads the reader to a closer examination of life. Thoreau's work asks us to live our own truths with joy and discipline and to recognize that we live in a universe of extraordinary beauty, mystery, and wonder. An avid reader of Thoreau, editor and illustrator Roderick MacIver organized the passages by themes: love and friendship; art, creativity, and writing; aging, disease, and death; human society and culture; nature and the human connection to the natural world; and wisdom, truth, solitude, and simplicity. The book includes a chronology and brief biography. Thoreau's words of wisdom combined with MacIver's vivid illustrations of the American landscape will resonate with nature enthusiasts and a broad range of readers interested in art, environmentalism, literature, and philosophy. "It is something to be able to paint a particular picture, or to carve a statue, and so to make a few objects beautiful, but it is more glorious to carve and paint the very atmosphere and medium through which we look, which morally we can do. To affect the quality of the day, that is the highest of arts. Every man is tasked to make his life, even in its details, worthy of the contemplation of his most elevated and critical hour."
--Henry David Thoreau.
About the Author
Henry David Thoreau (1817--1862) is best known for his book Walden and his essay Civil Disobedience. Roderick MacIver's artwork appears in collections worldwide. The founder of Heron Dance, an organization celebrating the human connection to nature through art, he lives in New York's Adirondack Mountains.
Praise For Thoreau and the Art of Life: Reflections on Nature and the Mystery of Existence…
"Thoreau and the Art of Life is a work of intrinsic beauty and calmness. The confluence of Roderick MacIver's art and Thoreau's text is so natural it is hard to say whether the art illustrates the words or the words depict the art."
—Jeffrey S. Cramer, Curator of Collections, the Walden Woods Project/Thoreau Institute at Walden Woods, Lincoln, Massachusetts
Advertisement