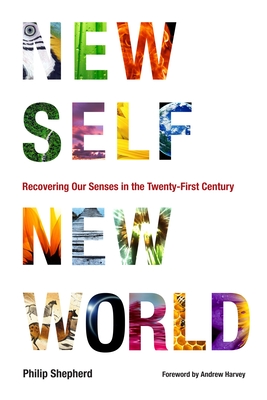 New Self, New World
Recovering Our Senses in the Twenty-First Century
Paperback

* Individual store prices may vary.
Other Editions of This Title:
Digital Audiobook (12/23/2019)
Description
New Self, New World challenges the primary story of what it means to be human, the random and materialistic lifestyle that author Philip Shepherd calls our "shattered reality." This reality encourages us to live in our heads, self-absorbed in our own anxieties. Drawing on diverse sources and inspiration, New Self, New World reveals that our state of head-consciousness falsely teaches us to see the body as something we possess and to try to take care of it without ever really learning how to inhabit it. Shepherd articulates his vision of a world in which each of us enjoys a direct, unmediated experience of being alive. He petitions against the futile pursuit of the "known self" and instead reveals the simple grace of just being present. In compelling prose, Shepherd asks us to surrender to the reality of "what is" that enables us to reunite with our own being. Each chapter is accompanied by exercises meant to bring Shepherd's vision into daily life, what the author calls a practice that "facilitates the voluntary sabotage of long-standing patterns." New Self, New World is at once a philosophical primer, a spiritual handbook, and a roaming inquiry into human history.
Praise For New Self, New World: Recovering Our Senses in the Twenty-First Century…
"An exceptionally important book."
—Andrew Harvey, scholar, mystic, author of Son of Man, The Return of the Mother, and The Way of Passion

"New Self, New World is an extraordinary work—an awesome display of wisdom distilled from the world's great wisdom traditions and the majestic individuals who have experienced them. This book is about achieving the highest dimensions of which humans are capable. Highly recommended."
—Larry Dossey, MD, author of Healing Beyond the Body, Reinventing Medicine, and Healing Words

"Shepherd has written a masterpiece. New Self, New World calls us back to source, artfully reminding us of the divine magnificence that we have long forgotten in our disembodied culture. As I read it, I felt my shoulders drop as my heart became more available to the moment. Read this book, and remember your self."
—Jeff Brown, author of Soulshaping

"New Self, New World is an exciting investigation of the human psyche, which is commonly male-oriented, and the deep-seated problems that result when deprived of its female counterpart. Using conventional spiritual concepts, such as the Holy Trinity, Shepherd provides a workable guide to achieving inner fulfillment by accepting the so-called 'weak' elements of our dual nature."
—Foreword Reviews

"At its core, this book is a cultural discourse about reconnecting to the wholeness of being human: to integrate the innate intelligence of the body into a functioning paradigm of human experience and evolution. The idea that we 'live in our heads' and are mostly disconnected from our body is not new. What is new is how this author extensively examines the historical, philosophical, scientific, mythological, spiritual, and social paths that have embedded this dissociative worldview as reality, to the extent that we are completely unaware that we are merely actors on a 'headstrong' stage of our own making… not since Ken Wilber introduced the Western world to the integral movement of East-West psycho-spirituality, has there been a catalyst for a paradigm shift that is so relevant and radically reinventive."
—New Consciousness Review

"This ambitious and wide-ranging book grew out of workshops [Philip Shepherd] has led for more than two decades… Shepherd believes that the culture that influences our ideas and experiences tells us the big lie day by day: 'the roots of the self do not lie in the world around us, nor even in the body, but are preserved intact within the blood-brain barrier.' This fiction of self-achieved independence comes at us from all directions when everything in science and spirituality enables us to embrace the universe as an interdependent reality."
—Spirituality & Practice

"Philip Shepherd has written a book which lays the foundation that could lead us humans to a much higher dimension than we now exhibit in New Self, New World: Recovering Our Senses in the Twenty-First Century. The book constantly harps against the very things that stand in our way of achieving this heightened state: the self-centeredness that seems to dominate our mind and materialism that seems to become more acute with each passing day… The book provides exercises for the body, mind and being that will help begin the process of reaching the potential which we are capable of attaining."
—MyShelf.com

"Shepherd demonstrates how we come into our true humanity only when we unite with our core-the deep, innate intelligence of the body. Our consciousness is not centered in the head any more than the universe is centered around the earth… At once a spiritual handbook, a philosophical primer and a roaming inquiry into human history, New Self, New World cracks open the possibilities of human experience and, with clarity, inspiration and compassion, lays the groundwork for personal renewal."
—Autumn Blues Reviews

"Philip Shepherd presents a fascinating examination of myth, consciousness, logic, and existence as our society grows increasingly more fearful and anxious. For anyone wanting a new perspective on achieving wholeness or a new sense of living a more present life, New Self, New World is a book worth reading. … exceptionally well-written and insightful."
—CirclesOfLight.com

"Changing with the world is key to making sure it doesn't change you. New Self, New World: Recovering Our Senses in the Twenty-First Century is a new age spirituality book from Philip Shepherd that offers wisdom on how to better face the world, shifting ourselves and controlling ourselves as the world turns. With much philosophy, Philip Shepherd offers much to ponder about our changing world and what it means to be human. New Self, New World is an ideal read for spirituality and self-help collections."
—Midwest Book Review
North Atlantic Books, 9781556439117, 512pp.
Publication Date: August 10, 2010
About the Author
Philip Shepherd trained extensively with energy-work pioneer Denis Chagnon. He is the author of two internationally produced plays and a documentary for CBC television. The editor of The Compleat Art Critic, he lives in Toronto.

Foreword contributor Andrew Harvey is a renowned mystical scholar and founder of the Institute for Sacred Activism. He lives in Chicago.
or
Not Currently Available for Direct Purchase