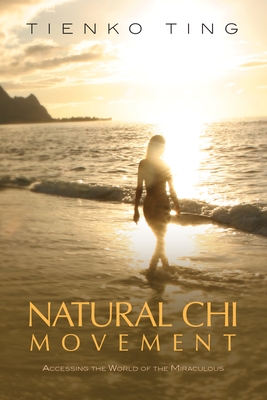 Natural Chi Movement: Accessing the World of the Miraculous (Paperback)
Accessing the World of the Miraculous
North Atlantic Books, 9781556439674, 265pp.
Publication Date: January 4, 2011
* Individual store prices may vary.
or
Not Currently Available for Direct Purchase
Description
In this book, Tienko Ting articulates a theory of life that unites the physical and spiritual worlds. He suggests there is nothing to learn or master; each of us - and every living thing - is a product of the merging of physical and spiritual energy, already endowed with the capacity to thrive and heal.
About the Author
Tienko Ting is the originator of Natural Chi Movement, the simple practice of allowing the body to respond naturally and spontaneously to the flow of energy. Born in Taiwan, Ting studied chi-enhancing techniques before discovering the ancient form of chi activation he currently practices. This form extends back to Bodhidharma, the renowned thirteenth-century Zen master. Since 1990, Ting has led Natural Chi Movement workshops throughout the US, Europe, and Asia.
Praise For Natural Chi Movement: Accessing the World of the Miraculous…
"Tienko is that rare breed of teacher who doesn't tell you what to do or what to think, a healer who recognizes that all healing comes from within.… This book will not ask you to believe anything. The truth is always much simpler than that. Natural Chi Movement is as close to the source as you will ever experience, and what awaits you is nothing less than an opportunity of a lifetime."
—From the foreword by William Spear, author of the best-selling book Feng Shui Made Easy

"With Natural Chi Movement, Tienko Ting brings integrity and precision to this detailed look into the essence of Chinese medicine and the nature of chi. In clear and easy-to-understand language, he shows how chi and spiritual energy have a profound influence on the development of human life. Natural Chi Movement truly links the physical, emotional, and spiritual bodies that comprise a human being. As the director for twenty-five years of one of the world's most renowned centers for holistic and Oriental philosophy and healing, I have rarely had the pleasure of coming across a presentation about the nature of chi that is as thorough, insightful, and interesting as that in this book by Dr. Tienko Ting."
—Mario Binetti, former director, Kientalerhof Center for Holistic Healing, Kiental, Switzerland

"Natural Chi Movement deserves the attention of every health care scientist. A lifetime of investing in the waves of new drugs and devices that dominate medical treatments today has highlighted for me how little we really know about the magic of life. While the world is looking for answers in the double helix or a new molecular structure, Tienko has shown us another path that deserves equal scrutiny. In this book, Tienko walks us through ancient insights from Taoism and Buddhism to present a theory for using energy to transform our physical and spiritual health—a theory that could be the killer app for many challenges facing the health care industry today."
—Steve Wiggins, founder and former CEO and chairman of Oxford Health Plan

"I'm not the most spiritual person, so I approached Natural Chi Movement with somewhat of a raised eyebrow. But I was attracted immediately to the great clarity and strength with which Tienko Ting expressed his ideas. When I started practicing, I found that Natural Chi Movement is indeed simply natural. It's literally whatever moves you. There are no rules, no instructions. Very quickly I realized that I barely needed any belief in the spiritual world to allow Natural Chi Movement to do the wonders it does, as I learned that what is truly spiritual is truly natural. No thought involved, no doctrine to hold. Understand this and the healing begins."
—Ken Weinstein, president of Big Hassle Media

"As a life-long student of Chinese philosophy and a practitioner of Chinese medicine and healing arts, I have read hundreds of books and textbooks on these subjects. Natural Chi Movement is by far the best treatise I have read, both for its clarity of thought and presentation, and for the simple yet profound truths that Tienko espouses. I have a far greater understanding now of chi, yin and yang, and how to achieve balance in life. Tienko's book bridges the gap between living in the dark and living life fully realized and awake. With simple and elegant descriptions and examples, he clearly illuminates how we can gain access to our natural birthright of optimal health and well-being. We are at a critical juncture in human evolution. Tienko's book provides guidance and the hope that we can choose a more enlightened path. It is imperative that we wake up to our true nature before we no longer have that choice."
—David Mortell, acupuncturist and Chinese herbalist

"Natural Chi Movement provides a powerful assessment of how to access and harness the powers of spiritual energy. … a real winner!"
—Midwest Book Review
Advertisement