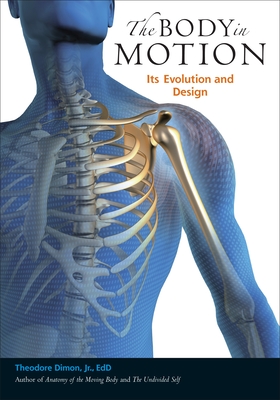 The Body in Motion
Its Evolution and Design
Paperback

* Individual store prices may vary.
Description
In The Body in Motion, author Theodore Dimon confronts a simple yet crucial task: to make sense of our amazing design. This comprehensive guide demonstrates the functions and evolution of specific body systems, explaining how they cooperate to form an upright, intelligent, tool-making marvel, capable of great technological and artistic achievement. Enhanced with 162 beautifully rendered full-color illustrations, the book opens with an introduction to the origins of movement, leading the reader on a journey through time and evolution—from fish to amphibian, quadruped to primate—showing how humans became the preeminent moving beings on the planet.

Delving deeper into our upright support system, The Body in Motion clearly describes the workings of the hands and upper limbs; the pelvic girdle; the feet and lower limbs; breathing; the larynx and throat musculature; and more. Central to the book is the idea that it is our upright posture that makes it possible for us to move in an infinite variety of ways, to manipulate objects, to form speech, and to perform the complex rotational movements that underlie many of our most sophisticated skills. These systems, Dimon argues persuasively, have helped us build, invent, create art, explore the world, and imbue life with a contemplative, spiritual dimension that would otherwise not exist.
Praise For The Body in Motion: Its Evolution and Design…
"The Body in Motion is not just another technical book on anatomy but a passionate illumination of the remarkable instrument we call body.… We don't need another anatomy book, we need exactly what this writing does to take our entire concept of our functionality as human beings to the next level of consciousness. Theodore Dimon Jr.'s work appeals to me as a dance artist, practitioner of the science of movement, contemplative seeker, and pragmatic teacher. This essential work is immensely readable, enjoyable, and full of both practical wisdom and profound insight."
—Anne Bluethenthal, dancer, teacher, and choreographer

"The Body in Motion is an outstanding book. I am impressed by the clarity of the writing; every chapter describes and simplifies a crucial aspect of anatomy."
—Jean E. Sealey, DSc, Professor Emeritus of Medicine in Physiology and Biophysics, Weill Medical College of Cornell University, Ithaca, New York
 
"Theodore Dimon Jr. has written an extraordinarily clear and useful book that is grounded, not only in extensive research and scholarship but, just as importantly, in experiential knowledge based on Dimon's training and practical work with movement and posture over the past thirty years. I highly recommend The Body in Motion, not just for bodyworkers and dancers but also for artists, physical educators, personal trainers, and anyone interested in the marvelous design of the human body.
—Seymour Simmons III, EdD, professor of art and art education, Winthrop University, Rock Hill, South Carolina

"This is a comprehensive guide to the anatomical design of the human body, revealing how the body's systems cooperate to form an upright, intelligent, tool-making marvel capable of great technological and artistic achievement. Based on the author's research and training in movement and posture for over 30-years, the book contains chapters including breathing, the lower and upper limbs, the spine and the shoulder. With beautiful illustrations and free from technical jargon, The Body In Motion moves away from being just another book on anatomy to provide a deeper understanding of our functionality. Highly recommended."
—Yoga Magazine
North Atlantic Books, 9781556439704, 128pp.
Publication Date: January 25, 2011
About the Author
Theodore Dimon, Jr., EdD, is the founder and director of the Dimon Institute (dimoninstitute.org) in New York City, where he lives. He is a widely recognized expert in the Alexander Technique, a practical method for improving ease and freedom of movement, balance, support, and coordination. He received both master's and doctorate degrees in education from Harvard University.
or
Not Currently Available for Direct Purchase