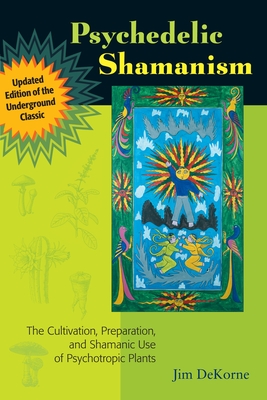 Psychedelic Shamanism, Updated Edition
The Cultivation, Preparation, and Shamanic Use of Psychotropic Plants
Paperback

* Individual store prices may vary.
Other Editions of This Title:
Paperback, Large Print, Large Print (10/19/2011)
Description
Psychedelic Shamanism presents the spiritual and shamanic properties of psychotropic plants and discusses how they can be used to understand the structure of human consciousness. Author Jim DeKorne offers authoritative information about the cultivation, processing, and correct dosages for various psychotropic plant substances including the belladonna alkaloids, d-lysergic acid amide, botanical analogues of LSD, mescaline, ayahuasca, DMT, and psilocybin.
 
Opening with vivid descriptions of the author's personal experiences with psychedelic drugs, the book describes the parallels that exist among shamanic states of consciousness, the use of psychedelic catalysts, and the hidden structure of the human psyche. DeKorne suggests that psychedelic drugs allow us to examine the shamanic dimensions of reality. This worldview, he says, is ubiquitous across space, time, and culture, with individuals separated by race, distance, and culture routinely describing the same core reality that provides powerful evidence of the dimensional nature of consciousness itself. The book guides the reader through the imaginal realm underlying our awareness, a world in which spiritual entities exist to reconnect us with ourselves, humanity, and our planet. Accurate drawings of plants, including peyote, Salvia divinorum, and San Pedro, enhance the book's usefulness.
Praise For Psychedelic Shamanism, Updated Edition: The Cultivation, Preparation, and Shamanic Use of Psychotropic Plants…
"No hands-on explorer of psychedelic hyperspace will want to be uninformed of the facts and techniques in this book. It is a valuable contribution to the new literature of do-it-yourself shamanism and psychoactive ethnobotany."
—Terence McKenna, author of Food of the Gods: A Radical History of Plants, Drugs, and Human Evolution

"Jim DeKorne's Psychedelic Shamanism is a classic in the field of exploratory ontological musings on substance-induced changes of consciousness and their multidimensional implications. I recommend it highly."
—Daniel Pinchbeck, editorial director of Reality Sandwich and author of Breaking Open the Head: A Psychedelic Journey into the Heart of Contemporary Shamanism
 
"The original Psychedelic Shamanism filled a crucial niche in the literature on the use of psychoactive plants in spiritual practice. This updated and revised version establishes its relevance to the current generation's search for insightful and thought-provoking treatments of a controversial topic."
—Rick Strassman, MD, Clinical Associate Professor of Psychiatry, University of New Mexico School of Medicine, and author of DMT: The Spirit Molecule

"At last, a book about drugs and the paranormal that makes sense. I recommend it to everyone."
—Robert Anton Wilson, coauthor of The Illuminatus! Trilogy
 
"DeKorne writes closely from experience, within an informed background of inner exploration and growth, and that is what makes this book good. Kudos to North Atlantic Books for bringing it back into print."
—Dale Pendell, author of Pharmako/Gnosis: Plant Teachers and the Poison Path
 
"An indispensable guide to the theory, practice, cosmology, theology, and ethnobotany of plant teachers."
—Howard Rheingold, editor of The Whole Earth Review
 
"The myth and mystery of shamanism—the drugs, taboos, sex, death, and genius—get a first class Broadway showing, thanks to Jim DeKorne. This book is indispensable reading for anyone interested in drug or state of consciousness issues. DeKorne proves that passion can produce real art!"
—Thomas Lyttle, publisher of Psychedelic Monographs and Essays
 
"DeKorne describes not only how to handle your plants, and the journeys you're about to take, but he gives you a flight plan, explaining with personal stories and shamanic theory just what it is you will be experiencing."
—Richard Kadrey, author of Covert Culture Sourcebook


North Atlantic Books, 9781556439995, 272pp.
Publication Date: July 26, 2011
About the Author
Jim DeKorne has been a political activist, epidemiologist, and college English teacher, and is the author of several books. The former publisher of The Entheogen Review, he lives in Pahoa, HI.
or
Not Currently Available for Direct Purchase