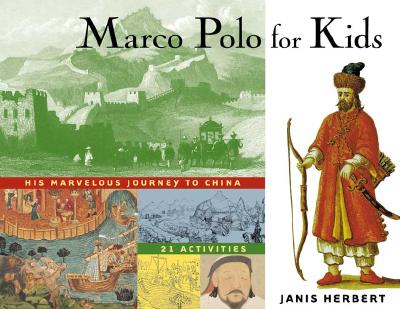 Marco Polo for Kids
His Marvelous Journey to China, 21 Activities (For Kids series #8)
Paperback

* Individual store prices may vary.
Description
The Far East comes alive in this activity book centered on Marco Polo's journey to China from Venice along the 13th-century Silk Road. Kids will join Marco as he travels by caravan through vast deserts and over steep mountain ranges, stopping in exotic cities and humble villages, until at last he arrives at the palace of the Kublai Khan. Woven throughout the tale are 21 activities that highlight the diverse cultures Marco encountered along the way. Activities include making a mythical map, creating a mosaic, fun with Feng Shui, making paper, and putting on a wayang-kulit (shadow-puppet play). Just for fun, kids will learn a few words of Turkish, Persian, Mongol, Hindi, and Chinese. A complete resource section with magnificent museums and their Web sites invites kids to embark on their own expedition of discovery.

Praise For Marco Polo for Kids: His Marvelous Journey to China, 21 Activities (For Kids series #8)…
"The book offers suspenseful stories, as Polo and his men face shipwrecks, bandits and other dangers." —
The Dallas Morning News
"If your children—whether in elementary, middle or high school—are studying Asia this year, have I got a resource for them--and for you (and teachers too)! Marco Polo for Kids covers China thoroughly but also Polo's travels through places like Afghanistan, Indonesia, Sri Lanka, and India. It has fantastic activities, wonderful graphic elements, and interesting tidbits on folklore, language, religion, animals, geography, and art."  —Washington Post
"In her historical activity book,
Marco Polo for Kids
, Herbert chronicles the famous explorer's travels. Projects feature the various cultures that he experienced.  Archival artwork and prints add to the handsome volume." —
Publishers Weekly
"An all-encompassing guide that's full of fascinating sidebars about subjects from the discovery of Mohenjodaro to the secrets of the Qin Emperor's tomb. Not only a study of Polo, this book is a great study guide for young readers who will surely enjoy the 21 related activities in this comprehensive book." —
Copley News Service
"Part history, part biography, part activity book, this guide to all things Marco Polo is graced with lively writing and imaginative projects." —
San Diego Union-Tribune
"The text is lively and sophisticated, but easy to understand. There are lots of pictures and tidbits of information to capture young imaginations." —
Star-Ledger
Chicago Review Press, 9781556523779, 144pp.
Publication Date: August 1, 2001
About the Author
Janis Herbert is the author of The American Revolution for Kids, The Civil War for Kids, Leonardo da Vinci for Kids, and Lewis and Clark for Kids.