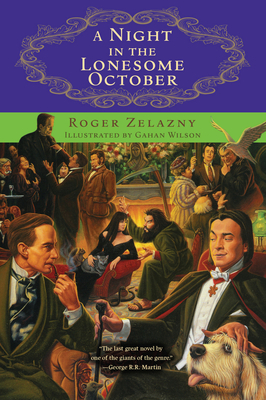 A Night in the Lonesome October (Rediscovered Classics #20)
Paperback

* Individual store prices may vary.
Other Editions of This Title:
Digital Audiobook (8/22/2022)
Description
Loyally accompanying a mysterious knife-wielding gentleman named Jack on his midnight rounds through the murky streets of London, good dog Snuff is busy helping his master collect the grisly ingredients needed for an unearthly rite that will take place not long after the death of the moon. But Snuff and his master are not alone. All manner of participants, both human and not, are gathering with their ancient tools and their animal familiars in preparation for the dread night. It is brave, devoted Snuff who must calculate the patterns of the Game and keep track of the Players—the witch, the mad monk, the vengeful vicar, the Count who sleeps by day, the Good Doctor and the hulking Experiment Man he fashioned from human body parts, and a wild-card American named Larry Talbot—all the while keeping Things at bay and staying a leap ahead of the Great Detective, who knows quite a bit more than he lets on.
            Boldly original and wildly entertaining, A Night in the Lonesome October is a darkly sparkling gem, an amalgam of horror, humor, mystery, and fantasy. First published in 1993, it was Zelazny's last book prior to his untimely death. Many consider it the best of the fantasy master's novels. It has inspired many fans to read it every year in October, a chapter a day, and served as inspiration for Neil Gaiman's brilliant story "Only the End of the World Again."
Praise For A Night in the Lonesome October (Rediscovered Classics #20)…
"Sparkling, witty, delightful: Zelazny's best for ages, perhaps his best ever."  —Kirkus Reviews
"A cheerful, witty, well-crafted fantasy. . . . Its deft, understated good humor and spare, poetic prose reaffirm Zelazny as one of fantasy's most skilled practitioners."  —Publishers Weekly
"The last great novel by one of the giants of the genre."  —George R. R. Martin
"Jack the Ripper meets Dracula, Dr. Frankenstein, Sherlock Holmes, and a few other choice individuals in this romp through the annals of literary horror and mystery. . . . Zelazny's quirky humor and Wilson's appropriately creepy drawings complement each other in grand style."  —
Library Journal
"A madcap blend of horror tropes and fantasy. . . . There aren't many authors who would set out to write a novel in which the Wolfman and Jack the Ripper were the two heroes. . . . And I'm not sure anyone else could have made it work."  —
Science Fiction Chronicle
"Bewitching . . . a supernatural romp."  —Philadelphia News
Chicago Review Press, 9781556525605, 288pp.
Publication Date: October 1, 2014
About the Author
Roger Zelazny (1937–1995) is best known as the author of the critically acclaimed Chronicles of Amber series. He wrote more than 40 novels and won the Nebula award three times and the Hugo award six times. Gahan Wilson is an award-winning author and cartoonist whose artwork has appeared in numerous publications, including National Lampoon, the New Yorker, and Playboy.