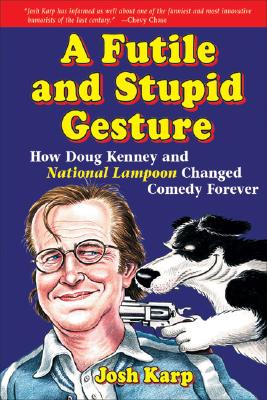 A Futile and Stupid Gesture (Hardcover)
How Doug Kenney and National Lampoon Changed Comedy Forever
Chicago Review Press, 9781556526022, 416pp.
Publication Date: September 1, 2006
Other Editions of This Title:
MP3 CD (10/3/2017)
Paperback (4/1/2008)
* Individual store prices may vary.
Description
Now a Netflix original film starring Will Forte, Domhnall Gleeson, and Emmy Rossum.

Comic genius Doug Kenney cofounded National Lampoon, cowrote Animal House and Caddyshack, and changed the face of American comedy before mysteriously falling to his death at the age of 33. This is the first-ever biography of Kenney--the heart and soul of National Lampoon—reconstructing the history of that magazine as it redefined American humor, complete with all its brilliant and eccentric characters. Filled with vivid stories from New York, Harvard Yard, Hollywood, and Middle America, this chronicle shares how the magazine spawned a comedy revolution with the radio shows, stage productions, and film projects that launched the careers of John Belushi, Bill Murray, Chevy Chase, and Gilda Radner, while inspiring Saturday Night Live and everything else funny that's happened since 1970. Based on more than 130 interviews conducted with key players including Chevy Chase, Harold Ramis, P. J. O'Rourke, John Landis, and others and boasting behind-the-scenes stories of how Animal House and Caddyshack were made, this book helps capture the nostalgia, humor, and enduring legacy that Doug Kenney instilled in National Lampoon--America's greatest humor magazine.
About the Author
Josh Karp is a freelance journalist who writes for a variety of national publications, including The Atlantic Monthly Online, Chicago Sun-Times, Los Angeles Times, Playboy, Premiere, and Salon.com.
Praise For A Futile and Stupid Gesture: How Doug Kenney and National Lampoon Changed Comedy Forever…
"[Karp has] written an essential American excavation of comedy that is, of itself, very, very, very, very, very, very funny." —Bill Zehme, author, Lost in the Funhouse: The Life and Mind of Andy Kaufman
"A must-read for the curious, comedy aficionados, and subversively shy teenagers everywhere." —Mark McKinney, actor, Kids in the Hall
"The definitive behind-the-scenes account of the man and publication that all but defined the comedy zeitgeist of the last 35 years." —Rob Siegel, former editor, The Onion
"This book is as close as I'll come to meeting Doug Kenney. It's close enough." —Penn Jillette of Penn & Teller
"The definitive profile of Kenney's brilliant comic mind and his too-short life." —Richard Roeper, film critic, Chicago Sun-Times
"Jammed with personalities and capsule histories." —The New York Times
"Karp makes a persuasive case for Kenney to be considered among the key architects of post-World War II humor." —American Way
"The sharpest analysis yet of how success, self-doubt and drugs led one of his generation's wittiest minds down a blind path." —Philadelphia Citypaper
or
Not Currently Available for Direct Purchase