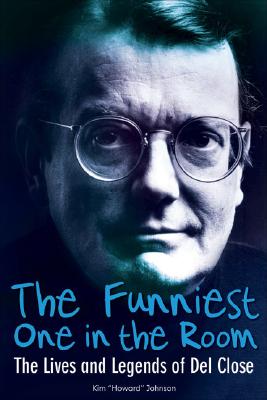 The Funniest One in the Room (Hardcover)
The Lives and Legends of Del Close
Chicago Review Press, 9781556527128, 222pp.
Publication Date: April 1, 2008
* Individual store prices may vary.
Description
Nichols and May. John Belushi. Bill Murray. Chris Farley. Tina Fey. Mike Myers. Stephen Colbert. For nearly a half century, Del Close cocreator of the Harold, director for the Second City, San Francisco's the Committee, and the ImprovOlympic, and house metaphysician for" Saturday Night Live "influenced improvisational theater's greatest comedic talents. His students went on to found the Groundlings in Los Angeles, the Upright Citizens Brigade in both New York and Los Angeles, and the Annoyance Theatre in Chicago. But this Pied Piper of improv has gone largely unrecognized outside the close-knit comedy community. Del was never one to let the truth of his life stand in the way of a good story and yet the truth is even more fascinating than the fiction. In his early years, he traveled the country with Dr. Dracula's Den of Living Nightmares, knew L. Ron Hubbard before Scientology, and appeared in "The Blob." Del cavorted with the Merry Pranksters, used aversion therapy to recover from alcoholism, and kicked a cocaine habit with the help of a coven of witches. And when he was dying, Del bequeathed his postmortem skull to the Goodman Theatre for use in its productions of "Hamlet "a final legend that lives on, long beyond the death of the father of long-form improvisation.
About the Author
Kim Howard Johnson was a longtime friend of Del Close, a personal assistant to John Cleese, a newspaper and magazine writer, andis theauthor of several books on Monty Python. Hecoauthoredthe improv classic "Truth in Comedy "with Del Close and Charna Halpern."
Praise For The Funniest One in the Room: The Lives and Legends of Del Close…
"Johnson's book should be read by anyone who has an interest in comedy and show business. This is the real thing."  Library Journal

"Johnson's apotheosis of Close as the funny fireball and grand guru of American improvisational comedy is a delight to read."  Publishers Weekly


"The definitive biography of an improvisational comedy guru . . . this loving, honest portrait will help the rest of the world get hip to the guy who made comedy hip."  Kirkus Reviews
"Without Del Close I wouldn't be half the improviser, actor, comedian, or writer that I am. . . . Johnson's book is a gem!"  Jeff Garlin, executive producer and costar, Curb Your Enthusiasm
"To understand contemporary comedy, you need to know about Del Close. And to understand Del Close (if that's possible), you need to read Johnson's book."  Andy Richter, comedian
"A terrific book . . . incredibly funny, terribly sad, always fascinating."  Starlog Magazine
"Johnson's book proves that Del Close is the most unrecognized and yet most influential comedians in the last fifty years."  Matt Besser, founding member, Upright Citizens Brigade
"Del Close, the skull that launched a thousand skits."  Peter Bonerz, actor and director
or
Not Currently Available for Direct Purchase