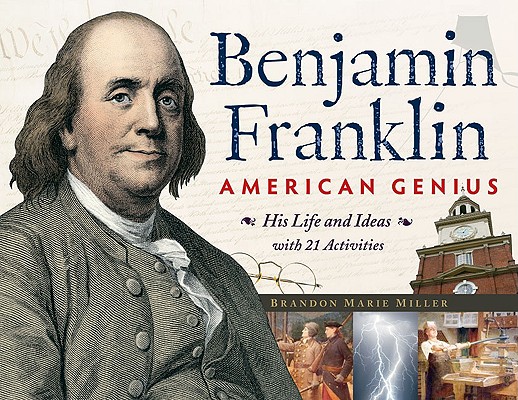 Benjamin Franklin, American Genius
His Life and Ideas with 21 Activities (For Kids series #28)
Paperback

* Individual store prices may vary.
Description
Benjamin Franklin was a 17-year-old runaway when he arrived in Philadelphia in 1723. Yet within days he'd found a job at a local print shop, met the woman he would eventually marry, and even attracted the attention of Pennsylvania's governor. A decade later, he became a colonial celebrity with the publication of Poor Richard: An Almanack and would go on to become one of America's most distinguished Founding Fathers. Franklin established the colonies' first lending library, volunteer fire company, and postal service, and was a leading expert in the study of electricity. He represented the Pennsylvania colony in London but returned to help draft the Declaration of Independence. The new nation then named him Minister to France, where he helped secure financial and military aide for the breakaway republic.Author Brandon Marie Miller captures the essence of this exceptional individual through both his original writings and hands-on activities from the era. Readers will design and print an almanac cover, play a simple glass armonica (a Franklin invention), experiment with static electricity, build a barometer, and more. The text also includes a time line, glossary, Web and travel resources, and reading list for further study.
Praise For Benjamin Franklin, American Genius: His Life and Ideas with 21 Activities (For Kids series #28)…
"This smart and delightful book captures the magic of Benjamin Franklin and shows why his life is so inspiring. Above all, it celebrates his creativity, which was the source of his genius."  —Walter Isaacson, author, Benjamin Franklin: An American Life
"[A] creative and well written book."  —Through the Looking Glass
Chicago Review Press, 9781556527579, 144pp.
Publication Date: October 1, 2009
About the Author
Brandon Marie Miller is the author of Declaring Independence, George Washington for Kids, Growing Up in Revolution and the New Nation, and Good Women of a Well-Blessed Land.