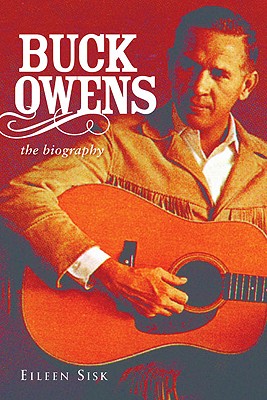 Buck Owens: The Biography (Hardcover)
The Biography
Chicago Review Press, 9781556527685, 385pp.
Publication Date: June 24, 2010
Description
Buck Owens was the top-selling country act of the 1960s, with 21 number-one hits and 35 consecutive top-ten hits, a total surpassed only by the Beatles. Inventor of the Bakersfield sound, he was hugely popular not only with country fans, but rock fans too. The Beatles covered his songs, Gram Parsons idolized him, the Grateful Dead loved him. At least five marriages, several TV shows, and a publishing and media empire followed. And a number of current country stars, ranging from Dwight Yoakam to Marty Stuart, owe their sound to him. Yet never before has there been a book about Buck Owens. And the man that emerges from its pages is the polar opposite of the aw-shucks image he cultivated on "Hee-Haw." A tight-fisted control freak with an outsized appetite for sex, Owens could be ruthlessly cruel at one moment and as slippery as a snake the next. "Buck Owens" chronicles his rise from poverty as son of a sharecropper to one of the nation's best-loved entertainers, worth at least $100 million when he died. It is authoritative: it counts among its myriad sources five Buckaroos, the producer of "Hee Haw," the former president of Capitol Nashville, numerous country singers, relatives, wives, lovers, and employees. This biography fully reveals, for the first time, not only one of country's biggest stars, but perhaps its biggest son of a bitch.
About the Author
Eileen Sisk is a former editor at the "Tennessean, " the "Las Vegas Review-Journal, " andthe" Washington Post"and a member of Investigative Reporters and Editors, Inc.and the Society of Professional Journalists.She isthe author of "Honky-Tonks: Guide to Country Dancin and Romancin .""
Praise For Buck Owens: The Biography…
"Eileen Sisk's fascinating but unsympathetic bio shreds the veil of secrecy surrounding the brilliant though tormented Owens to reveal a master manipulator with a heart of stone."  John Lomax III, author, Nashville: Music City U.S.A.; Red Desert Sky; and For the Sake of the Song

"This biography should be required reading for any serious country music fan. Meticulously researched, the revealing saga of one of the genre's most flamboyant stars."  Patsi Bale Cox, author, The Garth Factor: The Career Behind Country's Big Boom; and Nickel Dreams, with Tanya Tucker

"Buck was one of the kings of country music but also a complicated man.  This biography tells why."   Michael Streissguth, author, Johnny Cash: The Biography


"Eileen Sisk captures the real Buck. I knew him. I experienced the weird weaknesses. I witnessed the anger. Eileen is a tremendous writer. She has the guts, she has the 'perfect subject,' and she's overstocked with talent. Her book is dynamitea masterpiece, a sure-fire winner."  Bill Mack, The Satellite Cowboy, host of the Country Crossroads radio and TV shows
"Meticulously researched and well-written." 
Sing Out
"Detailed and passionate . . . [Sisk] uncovered so many fascinating facts that most writers would simply pass by or not even try to get because it takes work.  Robert Hilburn, former pop music critic and editor for the Los Angeles Times and author, Corn Flakes with John Lennon and Other Tales from a Rock 'n' Roll Life
"Reviewers love the book while hardcore fans find it difficult to learn Owens might have been far less than perfect."  Don Rhodes, veteran music columnist for the Augusta (Ga.) Chronicle and author, SAY IT OUT LOUD!: My Memories of James Brown, Soul Brother No. 1
"Offers an unflinching look at the country pioneer."  Country Weekly
Advertisement