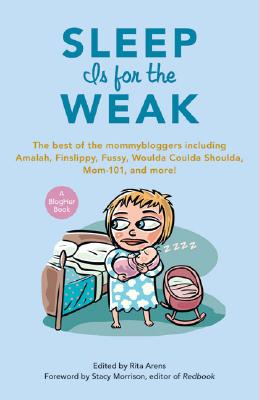 Sleep Is for the Weak
The Best of the Mommybloggers Including Amalah, Finslippy, Fussy, Woulda Coulda Shoulda, Mom-101, and More!
Paperback

* Individual store prices may vary.
Description
Each month, more than half a million readers turn to the 25 mommyblogs featured in this collection for advice and a sense of camaraderie, and this anthology brings together their best and brightest essays, ranging in style from snort-Diet-Coke-out-the-nose funny to poignant and bittersweet. Written to be read during the mind-bogglingly short breaks parents get during their busy days, these pieces will help moms find solace in a wide range of viewpoints and issues not often discussed in mainstream magazines and other parenting books. From dealing with rage to negotiating sleeping arrangements to the frustration and joy of parenting a special needs child, this is the perfect read for the hip but harried mother that says "you are still you."
Praise For Sleep Is for the Weak: The Best of the Mommybloggers Including Amalah, Finslippy, Fussy, Woulda Coulda Shoulda, Mom-101, and More!…
"A lively compilation of honest, funny, real-life writing. Parents will find reassurance, heart, and a lot of humor in this collection. A very entertaining read!" —Christie Mellor, author, The Three-Martini Playdate, The Three-Martini Family Vacation, and Were You Raised by Wolves? Clues to the Mysteries of Adulthood
"From the foreword to the final essay, this is a collection of some of the best writing out there on the topic of modern motherhood." —Amy Keroes, founder & CEO, mommytrackd.com
"Don't spend another night awake without these intelligent and funny-as-hell moms by your side." —Devra Renner and Aviva Pflock, authors, Mommy Guilt
"This treasure . . . is a real page turner, delighting readers with honest re-tellings of motherhood's most joyous (and sometimes terrifying) moments." —peekaboopicks.com
"A perfect read for the mom with little time and a great sense of humor." —Pregnancy & Newborn
"This compilation of essays . . . run the gamut from hilarity to heartbreak, woe to wonderment, and will have you laughing and crying as if they were stories of you." —Mamaspeaks.com
"There are endless examples of the quick wit and empathy of the writers in this anthology. It's a fast and entertaining read . . . But it's also the much-loved, well-worn book that many moms will come back to over and over for the support and cameraderie offered inside." —Mamalit.com
"A clever, funny, touching and humbling book." —parentbloggers.com
Chicago Review Press, 9781556527722, 224pp.
Publication Date: September 1, 2008
About the Author
Rita Arens is the author of the blog Surrender, Dorothy (www.surrenderdorothyblog.com) and a contributing editor to BlogHer (www.blogher.org). She has written for the Austin American Statesman, BurstBlog, Circle Magazine, and the Kansas City Star. Stacy Morrison is the editor in chief of Redbook magazine. She is the former executive editor at Marie Claire and editor in chief of Modern Bride. She was part of the launches of Mirabella, Condé Nast Sports for Women, and Time Out New York.
or
Not Currently Available for Direct Purchase