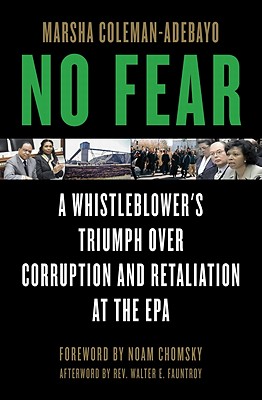 No Fear
A Whistleblower's Triumph Over Corruption and Retaliation at the EPA
Hardcover

* Individual store prices may vary.
Description
As a young, black, MIT-educated social scientist, Marsha Coleman-Adebayo landed her dream job at the EPA, working with Al Gore's special commission to assist postapartheid South Africa. But when she tried to get the government to investigate allegations that a multinational corporation was responsible for the deaths of hundreds of South Africans mining vanadium—a vital strategic mineral—the agency stonewalled. Coleman-Adebayo blew the whistle.
How could she know that the liberal agency would use every racist and sexist trick in their playbook in retaliation? The EPA endangered her family and sacrificed more lives in the vanadium mines of South Africa—but her fight against this injustice also brought about an upwelling of support from others in the federal bureaucracy who were fed up with its crushing repression.
Upon prevailing in court, Coleman-Adebayo organized a grassroots struggle to bring protection to all federal employees facing discrimination and retribution from the government. The No FEAR Coalition that she organized waged a two-year-long battle with Congress over the need to protect whistleblowers—culminating in the passage of the first civil rights and whistleblower law of the 21st century. This book is her harrowing and inspiring story.
Praise For No Fear: A Whistleblower's Triumph Over Corruption and Retaliation at the EPA…
"Intensely gripping. . . . Dr. Marsha Coleman-Adebayo's story refuses to leave the reader's memory. She is a cool force of nature whose example teaches how to stand down fear and victoriously stand up for what is right. More will be right when others join her."  —Ralph Nader


"A remarkable book: absolute must reading for anyone who cares about civil rights, whistleblowers, and justice."  —Stephen M. Kohn, executive director, National Whistleblowers Center

"A taut legal thriller…Marsha Coleman-Adebayo's memoir No Fear had me hooked from the first lines."  —Essence


"Marsha Coleman-Adebayo's account of cowardice and betrayal at the EPA demonstrates that heroines like herself are indeed necessary. . . . The same agency that facilitated the poisoning of miners and their families in South Africa allows its own citizens to sicken and die for the sake of corporate profits. Do not ask for whom the whistle blows—it blows for all of us."  —Glen Ford, executive editor, Black Agenda Report


"Dr. Coleman-Adebayo presents the public a trenchant critique of how the US government too often not only turns a blind eye, but also enables the worst kinds of human rights practices by its multinational corporations abroad. Her unique insider position and her principled commitment were what made her dangerous to the federal bureaucracy. Thankfully, she did not give up. This book is a must-read if you're concerned with government accountability and want a rare inside look at the toll willful government negligence can take on individuals, families, and communities."  —Danielle Brian, president, Project on Government Oversight (POGO)


"Marsha's insider's account, told with startling clarity, is a call to action. Her courageous accomplishments, especially with the No FEAR legislation and Coalition, have helped to fortify and protect those who take up that call."  —Dr. Willard R. Johnson, MIT professor emeritus of political science 


"Marsha Coleman-Adebayo clearly and engagingly tells us Americans a truth that we might not want to hear but should."  —Dal LaMagna, author of Raising Eyebrows: A Failed Entrepreneur Finally Gets It Right

"This is an inspiring and worthwhile trek through one woman's brave battle against a system favoring the powerful."  —Kirkus Reviews
Lawrence Hill Books, 9781556528187, 480pp.
Publication Date: September 1, 2011
About the Author
Marsha Coleman-Adebayo is the founder and president of the No Fear Institute. She served as the executive secretary of the EPA's Environment Working Group, working with their delegation to the Gore/Mbeki Binational Commission during the Clinton administration. Her victory in the Title VII complaint of the 1964 Civil Rights Act in Coleman-Adebayo vs. Carol Browner inspired the passage of the No Fear Act of 2002.
Noam Chomsky is a world-renowned linguist and social critic considered by many to be the world's foremost intellectual. He is the author of 120 books.
Rev. Walter E. Fauntroy is a former liaison to Congress and three former presidents for Dr. Martin Luther King Jr. He organized the "I Have a Dream" speech on the National Mall in 1963, was a cofounder of the Congressional Black Caucus, and was the District of Columbia's sole congressman in the House of Representatives for 20 years.
Coverage from NPR
or
Not Currently Available for Direct Purchase