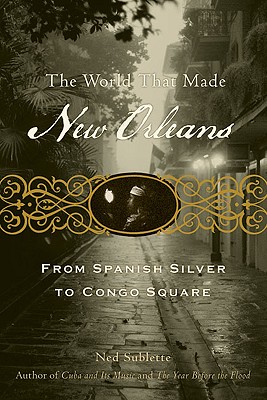 The World That Made New Orleans
From Spanish Silver to Congo Square
Paperback

* Individual store prices may vary.
Other Editions of This Title:
Digital Audiobook (10/16/2017)
MP3 CD (10/17/2017)
Compact Disc (10/17/2017)
Compact Disc (10/17/2017)
Description
Named one of the Top 10 Books of 2008 by The Times-Picayune. Winner of the 2009 Humanities Book of the Year award from the Louisiana Endowment for the Humanities.Awarded the New Orleans Gulf South Booksellers Association Book of the Year Award for 2008.

New Orleans is the most elusive of American cities. The product of the centuries-long struggle among three mighty empires--France, Spain, and England--and among their respective American colonies and enslaved African peoples, it has always seemed like a foreign port to most Americans, baffled as they are by its complex cultural inheritance.

The World That Made New Orleans offers a new perspective on this insufficiently understood city by telling the remarkable story of New Orleans's first century--a tale of imperial war, religious conflict, the search for treasure, the spread of slavery, the Cuban connection, the cruel aristocracy of sugar, and the very different revolutions that created the United States and Haiti. It demonstrates that New Orleans already had its own distinct personality at the time of Louisiana's statehood in 1812. By then, important roots of American music were firmly planted in its urban swamp--especially in the dances at Congo Square, where enslaved Africans and African Americans appeared en masse on Sundays to, as an 1819 visitor to the city put it, "rock the city."

This book is a logical continuation of Ned Sublette's previous volume, Cuba and Its Music: From the First Drums to the Mambo, which was highly praised for its synthesis of musical, cultural, and political history. Just as that book has become a standard resource on Cuba, so too will The World That Made New Orleans long remain essential for understanding the beautiful and tragic story of this most American of cities.
Praise For The World That Made New Orleans: From Spanish Silver to Congo Square…
"Thoughtful, well-researched . . . As our nation continues to ponder the future of the Big Easy, Sublette offers an informative accounting of that great city's past." —Publishers Weekly
"Cultural studies and history do not get much better than this, a must read for anyone who wonders why this city must be saved." —
Booklist
"Ned Sublette] is a passionate chronicler of the Africans' resilience, of how they revived a cultural memory that gave life to music and enduring folkways." —New York Times
"Sublette is a sonic sleuth charting the successive waves of Africans who shaped this black city's culture."
—Nation
"Sublette gets contemporary New Orleans, sees the echoes of the past in our present." —
New Orleans Times-Picayune
"With great detail and talented telling, Sublette especially chronicles the paths slaves took to New Orleans and how those paths led to the city's personality today." —
Tampa Tribune
"Sublette, who drew raves for Cuba and Its Music, has produced another important resource - and the best argument yet for why we need to save New Orleans." —
Boston Globe
"With staggering erudition and dazzling style, Ned Sublette tells you a thousand seemingly disparate things you always wanted to know but never knew where or whom to ask, then weaves them all together in a harmonious whole." —Madison Smartt Bell, author, All Souls' Rising and Toussaint Louverture
Lawrence Hill Books, 9781556529580, 368pp.
Publication Date: September 1, 2009
About the Author
Ned Sublette is the author of Cuba and Its Music: From the First Drums to the Mambo. Cofounder of the record label Qbadisc, he coproduced the public radio program Afropop Worldwide for seven years.