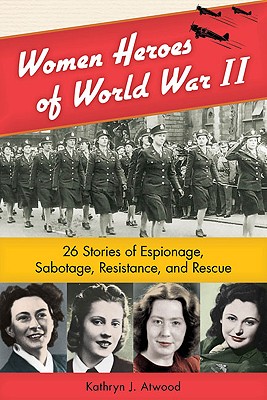 Women Heroes of World War II (Hardcover)
26 Stories of Espionage, Sabotage, Resistance, and Rescue (Women of Action)
Chicago Review Press, 9781556529610, 272pp.
Publication Date: March 1, 2011
Other Editions of This Title:
Paperback (5/1/2016)
Hardcover (10/1/2016)
Paperback (8/1/2013)
Hardcover (6/1/2014)
* Individual store prices may vary.
Description
A 2012 VOYA Nonfiction Honor List selection
2012 Selection for the Amelia Bloomer Project
Noor Inayat Khan was the first female radio operator sent into occupied France and transferred crucial messages. Johtje Vos, a Dutch housewife, hid Jews in her home and repeatedly outsmarted the Gestapo. Law student Hannie Schaft became involved in the most dangerous resistance work--sabotage, weapons transference, and assassinations. In these pages, young readers will meet these and many other similarly courageous women and girls who risked their lives to help defeat the Nazis.
            Twenty-six engaging and suspense-filled stories unfold from across Germany, Poland, the Netherlands, France, Belgium, Denmark, Great Britain, and the United States, providing an inspiring reminder of women and girls' refusal to sit on the sidelines around the world and throughout history.
An overview of World War II and summaries of each country's entrance and involvement in the war provide a framework for better understanding each woman's unique circumstances, and resources for further learning follow each profile. Women Heroes of World War II is an invaluable addition to any student's or history buff's bookshelf.
About the Author
Kathryn J. Atwood is an educator and writer. She has contributed to War, Literature, and the Arts, PopMatters.com, Midwest Book Review, and Women's Independent Press.
Praise For Women Heroes of World War II: 26 Stories of Espionage, Sabotage, Resistance, and Rescue (Women of Action)…
"A well-written collection." —World War II Magazine
"Each story has been meticulously researched...This is a great read for students who like adventure or are researching World War II." —VOYA, Voices of Youth Advocate reviews
"Inspiring accounts of the lives of women—some of them still in their teens—whose courage made a difference in the dark days of World War II." —Rita Kramer, author of Flames in the Field: The Story of Four SOE Agents in Occupied France
"Those in Women Heroes of World War II surely played a major role in turning the tide of the war in the Allies' favor. Kathryn Atwood's book will be a wonderful inspiration to girls and women."
—Judith Pearson, author of The Wolves at the Door: The True Story of America's Greatest Female Spy
"Atwood's admiration and enthusiasm for her subjects is apparent in these engaging profiles, and readers will likely be inspired to investigate these fascinating women further." —Kirkus Reviews
"[Women Heroes of World War II] tells the compelling story of volunteering and humanitarianism in a world focused mainly on the heroism of men."—MetroKids
"These stories will restore your faith in the human spirit and encourage us all to remember to do what is right, because it is right. Women Heroes of World War II is a must read for anyone who has ever asked themselves: 'What can I do?  Can one person really make a difference?'"—Kenneth Koskodan, author of No Greater Ally: The Untold Story of Poland's Forces in World War II
"Adds a vital dimension to more traditional titles on the war. It will appeal to browsers seeking adventure tales while also enriching classes in history and women's studies, and units on war and peace...Recommended." —Library Media Connection
"Kathryn Atwood's finely detailed and fast-paced writing, interwoven with the essential facts of the conflict in the Pacific, makes for fascinating reading and provides a much needed perspective on World War II. Before the bombing of Pearl Harbor through the long years of Japanese occupation, women bravely stood with the victims of war and thwarted the enemy. Finally, their stories are told." —Mary Cronk Farrell, author of Pure Grit: How American World War II Nurses Survived Battle and Prison Camp in the Pacific
or
Not Currently Available for Direct Purchase