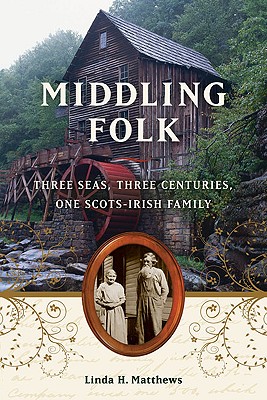 Middling Folk: Three Seas, Three Centuries, One Scots-Irish Family (Hardcover)
Three Seas, Three Centuries, One Scots-Irish Family
Chicago Review Press, 9781556529696, 364pp.
Publication Date: November 1, 2009
* Individual store prices may vary.
or
Not Currently Available for Direct Purchase
Description
Historians and biographers have traditionally favored stories of the powerful and the trends they set in motion. More recently, they ve spotlighted the neglected lives of the disenfranchised and dispossessed. But, asks Linda H. Matthews, descendant of the pragmatic, adaptable, and lively Hammill family, who tells the stories of the people in the middle? Spanning three centuries and three seas, from the bluffs of Scotland and Ireland to colonial Chesapeake Bay and Virginia, then across the expanding nation into the Pacific Northwest, "Middling Folk" makes the compelling case that the experiences of the middle classes--those who quietly, century after century, conducted the business and built the livelihoods that made their societies prosper --reveal a great deal about the founding of the United States and the ways in which customs and traditions are perpetuated through the generations.Matthews combines meticulous research and deft storytelling to show how the Scots-Irish Hammills--millers, wagon makers, and blacksmiths--lived out their lives against a backdrop of the American Revolution, the Civil War, and westward expansion. Readers will come away with a newfound respect for the ordinary families who helped shape this country and managed to hold their own through turbulent times.
About the Author
Linda H. Matthews is the cofounder and former publisher of Chicago Review Press. She is the coauthor of "The Balancing Act: A Career and a Family"and has contributed several articles to "The Mill Racer," the monthly newsletter of the Occoquan Historical Society of Occoquan, Virginia. For more information, visit www.middlingfolk.com"
Praise For Middling Folk: Three Seas, Three Centuries, One Scots-Irish Family…
"Matthews is a graceful writer, providing the necessary historical facts and documentations while keeping us squarely focused on the people and their stories . . . Simply splendid."  Booklist, starred review
"A deeply felt, illuminating narrative." 
Kirkus Reviews
"A richly textured, strongly researched and documented, beautifully written family history that any student of Americana will find irresistible. The 'novelistic' inventions that punctuate Matthews's historical narrative are uncannily evocative. A wonderful book!"  Christopher Herbert, Chester D. Tripp Professor of Humanities, Northwestern University
"An often poignant story that is both instructive and wittyand likely to impel many to take a closer look at their own family trees."  Larry Lockridge, professor of English, New York University; author, Shade of the Raintree: The Life and Death of Ross Lockridge, Jr.
"
Middling Folk
examines generations of a middle class family and in so doing opens a window to a part of America's history that has long been missing." Katherine Bateman, author,
Kentucky Clay: Eleven Generations of a Southern Dynasty
Advertisement