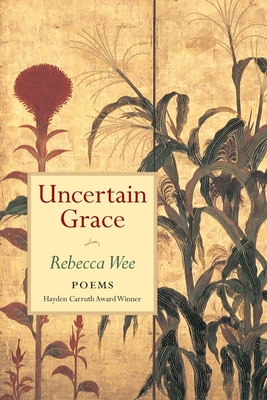 Uncertain Grace (Hayden Carruth Award for New and Emerging Poets)
Paperback

* Individual store prices may vary.
Description
Winner of the 2000 Hayden Carruth Award for New and Emerging Poets.
Rebecca Wee's award-winning debut is a moody and lyrical mosaic where the reader is presented multiple and simultaneous points of reality. As line after line gathers details from the world, Wee's poems build in momentum, give voice to the silenced, and explore the poet's impulse to create art that transcends suffering.
Rebecca Wee is a professor of creative writing at Augustana College in Rock Island, Illinois. A former editor of The Minnesota Review, she earned her MFA from George Mason University and has received several awards for her poetry.
Pont des Arts
She's bent in a posture of anguish or prayer
in a spot of city filth.
Head down, a stained knit cap
with a few coins on the ground beside her,
and her pliant child, a shadow.
Someone veers past with a friend
in a clamor of rings and scarves. A pretty child
skips after them, scattering pigeons.
The mothers miss how their daughters' eyes catch them--
the wary, openmouthed stares.
A terrible knowledge passes between them,
the bridge rippling under their feet,
before the polished child rushes past but looks back
at the one on the bridge in the heat--
the sunblown silent one
whose hand has pulled back and flown up to smooth,
for a moment, her heavy hair.
The Philosopher
A man rides a bicycle into town. He's forgotten his clothes,
or maybe this is what he means to do.
He rides carefully into the burning town.
Apartments of old stone list, iron balconies, awnings,
the window-grates blacken with heat. He rides by.
His lip perspires, his eyes intent.
In the hills behind him there is a glow that is not the burning.
The Acropolis maybe. The Dome of the Rock.
The man has a book under his arm. The pages are gilt-edged, the title
has worn away. He has a shoulder-wound also, an old crescent scar.
Now his chest sweats, now his abdomen.
He is more agile than laughter.
The road turns. A black sedan rounds the corner
behind him. They are leaving town or they're trailing him./DIV.
Copper Canyon Press, 9781556591549, 83pp.
Publication Date: May 1, 2001