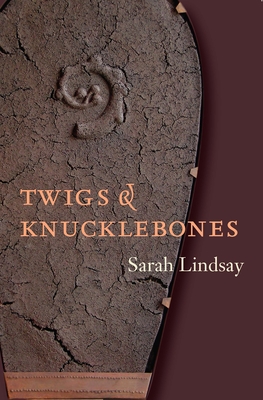 Twigs and Knucklebones
Paperback

* Individual store prices may vary.
Description
Had Dr. Dolittle fathered a prodigious daughter, she might well be behind the bizarre and entertaining personae found on the pages of Lindsay's first-book bestiary...Lindsay's dark-edged, sometimes creepy poems are also imbued with a buoying sense of respect for the different, the unexpected and the challenging.... In work reminiscent of Amy Clampitt and of Albert Goldbarth, Lindsay weaves informed and moving lyric claims around scientific facts, lamenting extinct species or following local rivers.
--Publishers Weekly

Twigs & Knucklebones is a rare thing in poetry--a very good read....(Sarah Kindsay's) voice...is omniscient yet intimate, super-literate and flawlessly graceful, like a really good lecturer who knows how to entertain an audience while speaking on complex subject matters.
--Poetry Foundation
With wonder and bemusement, Lindsay writes supple, sparkling poems about life's perpetual coalescence and breaking down....The heart of this mordant yet profoundly compassionate book is a vivid and involving series about the fictional ancient kingdom of Nab. Here Lindsay sifts through the detritus of a civilization, imagines the inner worlds of people long gone, and the layering of tomb upon tomb, city upon city as bone, clay vessels, and the inscribed tablets are all crushed into splinters and shards.
--Booklist
"Sarah Lindsay is blessed with the sort of X-ray vision a philosopher would kill for."--The New York Times Book Review
Quirky, macabre, vivid, and fascinating, Sarah Lindsay's poetry in Twigs and Knucklebones melds science and art with astonishing facts that might just be true: spadefoot toads singing till their throats bleed, an explorer tumbling into an Antarctic crevasse and swinging from his tether like a pendulum.
Many of Lindsay's poems occur in extremis, and the situations are often severe and surreal: the futuristic "Valhalla Burn Unit on the Moon Callisto" or a bog person discovered in Eske's Field. These characters often span--in the space of a poem--various times, cultures, and contexts. Lindsay also creates her own fictional kingdom and peoples it with outlandish characters, including jerboas, megalomaniac archaeologists, an adjunct professor, goatherds, farmers, and the god Nummis, who is depicted with a "hawk on his head, fish in one hand, horned ibex at either side."
We prod and whisk and deduce what we can
from marks in clay, from the trace of a wall.
But the way the king tossed and caught his adoring daughters,
the foolish songs he improvised for his wife, and his furry voice--
these have been safely forgotten.
Sarah Lindsay is the author of two previous books of poems. Her debut volume was a finalist for the National Book Award. She lives in North Carolina.
Copper Canyon Press, 9781556591648, 80pp.
Publication Date: October 1, 2008
About the Author
Sarah Linday was a finalist for the National Book Award for her first book, Primate Behavior. She earned her MFA from University of North Carolina-Greensboro, and her poems are published in a wide range of magazines, including McSweeney's, The Atlantic, and The Paris Review. She is a copy editor for the inflight magazine of Delta airlines.