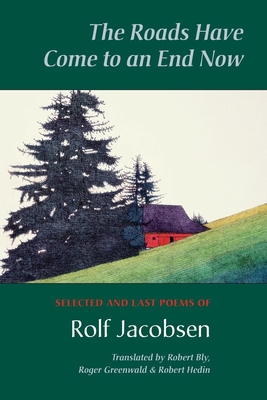 The Roads Have Come to an End Now
Selected and Last Poems of Rolf Jacobsen (Kagean Book)
Paperback

* Individual store prices may vary.
Description
Norway's Rolf Jacobsen is one of Europe's most acclaimed writers yet, as Robert Bly points out in his introduction: This magnificent poet is so little known in the United States. This bilingual edition, which selects the best work from Jacobsen's ten volumes, will help remedy that situation.
Three dedicated translators contribute to this book. Robert Bly's translations celebrate the radiance with which Jacobsen praised the complex beauty of the Earth; Robert Hedin focuses on the countryside, creature, and star poems; and Roger Greenwald draws difficult emotions from Jacobsen's charged last poems, composed while his wife struggled with fatal illness--as when he remembers their bitter-cold wedding day during World War II:
Road to the church was blocked with barbed wire.
I remember we clambered over the rail fence of the parsonage.
--Hey, your dress is caught
--no, not there--over there.
We tramped the furrows of an ice-crusted
potato field, up to the minister
who was in his surplice and had
the Scriptures ready.
--Love is a path you must walk, he says. Yes, we said.
But my lord what muddy feet we had
When we got in bed that night
we cried a dab--both of us. God
knows why.
And then the long life began.
Rolf Jacobsen was born in 1907 and lived his adult life north of Oslo. He worked as a journalist and newspaper editor and played a critical role in introducing modernism to Norwegian poetry. His poetry has been translated into nearly thirty languages. A member of the Norwegian Academy of Language and Literature, he was honored with many prizes and awards, including the Norwegian Critics' Prize and the Grand Nordic Prize from the Swedish Academy. Jacobsen died in 1994.
Copper Canyon Press, 9781556591655, 212pp.
Publication Date: October 1, 2001
About the Author
Robert Bly is one of the most influential poets, translators, and editors of his generation. He is the author of numerous books, including the National Book Award-winning Silence in the Snowy Fields and the iconic (and best-selling) Iron John.