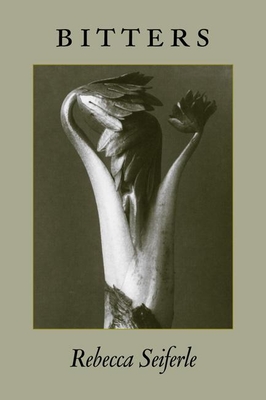 Bitters
Paperback

* Individual store prices may vary.
Description
Bitters is an extended quarrel with God, driven by the desire to recover what is banished to the marginal and apocryphal. In her third collection Seiferle claims whatever originates in the earth as an emissary of the divine, whether it is a starving boy in a supermarket or the maggots thriving in the skin of a cat.
Seraphim
Even houseflies must have their angels.
Principalities, at knee or elbow, the voice
of God caught within an ear, at such a pitch,
it makes the skull hum. And if I swat them,
can they blame me? Like all good messengers,
they're just testing whether we are still alive.
By such means, the priest taught me, God creates.
All the living and the dead, just a nursery
for his hatching. So when I found a trinity
of maggots in the abdominal wall
of a living kitten, though I had to pinch
them out, I could not blame them--Shadrach,
Meshach, Abednego, pale witnesses
of a homesick God, caught in the furnace
of the flesh, hoping to sprout wings.
Against the background and harsh light of the desert Southwest or withing the darkness of European history and religion, Seiferle has created a new kind of beauty: tragic, wise, open to every possibility. And just as the liquor of the title are colorful, earthy draughts of distilled spirits with an ancient medicinal history, so too are they a fitting metaphor for these darkly humorous and curative poems.
Rebecca Seiferle's The Music We Dance To was nominated for the Pulitzer prize and poems from the volume are included in The Best American Poetry 2000. Her first book, The Ripped-Out Seam won the Bogin Memorial, the Writers' Exchange, and the Writers' Union Poetry Prize. Her translation of Cesar Vallejo's Trilce won the 1992 PenWest Translation Award. She lives in Farmington, NM.
Copper Canyon Press, 9781556591686, 158pp.
Publication Date: October 1, 2001
About the Author
Rebecca Seiferle is the author of four books of poems and two volumes of translations of Cesar Vallejo. She is Lannan Fellow, editor of the online magazine The Drunken Boat, and recently taught at Brown University. She lives in Tucson, Arizona.