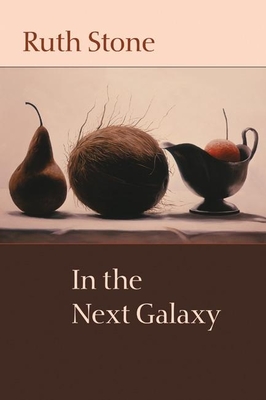 In the Next Galaxy
Hardcover

* Individual store prices may vary.
Other Editions of This Title:
Paperback (4/1/2004)
Description
Ruth Stone has rightly been called America's Akhmatova, and she is considered Mother Poet to many contemporary writers. In this, her eighth volume, she writes with crackling intelligence, interrogating history from the vantage point of an aging and impoverished woman. Wise, sardonic, crafty, and misleadingly simple, Stone loves heavy themes but loathes heavy poems.
Shapes
In the longer view it doesn't matter.
However, it's that having lived, it matters.
So that every death breaks you apart.
You find yourself weeping at the door
of your own kitchen, overwhelmed
by loss. And you find yourself weeping
as you pass the homeless person
head in hands resigned on a cement
step, the wire basket on wheels right there.
Like stopped film, or a line of Vallejo,
or a sketch of the mechanics of a wing
by Leonardo. All pauses in space,
a violent compression of meaning
in an instant within the meaningless.
Even staring into the dim shapes
at the farthest edge; accepting that blur.
Ruth Stone's work is alternately witty, bawdy, touching, and profound. But never pompous. Her honesty and originality give her writing a sense of youth and newness because she looks at the world so clearly, without all the detritus of social convention the rest of us pick up along the way... Her writing proves her to be simply inspired.--USA Today
Ruth Stone was born in Virginia in 1915. She is author of eight books of poems and recipient of the National Book Critics Circle Award. In 1959, after her husband committed suicide, she was forced to raise three daughters alone. For twenty years she traveled the US, teaching creative writing at many universities, finally settling at SUNY Binghamton. She lives in Vermont.
Copper Canyon Press, 9781556591785, 96pp.
Publication Date: May 1, 2002
About the Author
Ruth Stone is the author of nine books of poetry, for which she has received the National Book Award, the Wallace Stevens Award, a National Book Critics Circle Award, and the Shelley Memorial Award. She taught creative writing at many universities, finally settling at SUNY Binghamton. She lives in Vermont.