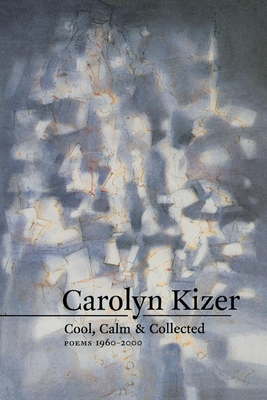 Cool, Calm, & Collected
Poems 1960-2000
Paperback

* Individual store prices may vary.
Description
Selected as a Best Book of the Year by the Los Angeles Times and Booklist magazine, and winner of the Independent Publisher Book Award, Cool, Calm, and Collected is a tour de force from one of the nation's premier poets. For four decades, Carolyn Kizer has been one of the most influential, controversial, and recognizable figures in American poetry. A feminist practically before the term existed, she has never been afraid to say what is on her mind, writing poems infused with sexual politics, social awareness, and literary irreverence.
Cool, Calm, and Collected was reprinted four times in cloth and became one of Copper Canyon Press's bestselling titles. It features new poems, work from all of Kizer's previous volumes, translations from a dizzying number of poets (New York Times), and several prose pieces, including Pakistan Journal and My Good Father.
. . . We women,
Outside, breathing dust, are still the Other.
The evening sun goes down; time to fix dinner.
You women have no major phiolosophers. We know.
But we remain philosophic, and say with the Saint,
Let me enter my chamber and sing my songs of love.
--from Pro Femina
We cannot do without Kizer and never could--here are four decades of compelling reasons why.--Los Angeles Times
Carolyn Kizer is a national treasure.--San Francisco Chronicle
The book will appeal to poetry lovers and activists of all stripes.--Publishers Weekly
No library should be without this collection.--Booklist (starred review)
Carolyn Kizer, recipient of the Pulitzer Prize, was educated at Sarah Lawrence College. She co-founded Poetry Northwest; served as the first director of the Literature Program at the National Endowment for the Arts; was a chancellor of the Academy of American Poets; and has been a poet-in-residence at Columbia, Stanford, and Princeton. Kizer lives in Sonoma, California.
Copper Canyon Press, 9781556591815, 520pp.
Publication Date: September 1, 2002