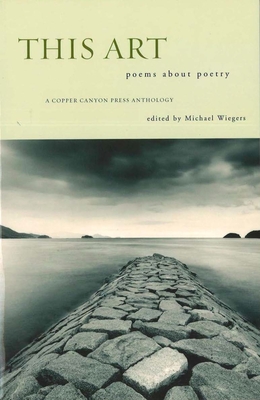 This Art (Paperback)
Poems about Poetry (Copper Canyon Press Anthology)
Copper Canyon Press, 9781556591846, 165pp.
Publication Date: March 1, 2003
* Individual store prices may vary.
Description
The centuries have changed little in this art,
The subjects are still the same.--Kenneth Rexroth
Why poetry? What is poetry and why do people write it and read it? Why, as Dana Levin has written, "this urge to making a scrapbook of stars"?
Every poet, by accident or design, has responded to "Why poetry" by writing a poem about poetry (an ars poetica). Whether these poems focus on the personal, political, or philosophical, each recognizes that our world is more complicated than a direct statement.
As Marvin Bell has written, "Writing is all and everything." This anthology of poems about the art and life of poetry--which draws widely from Copper Canyon's 30-year backlist of poetry books--proves him right.
Poets write out of love and longing:
Lord, let me live / long enough to dare /a love poem --Cyrus Cassells
Poets confront suffering:
since we will always have a suffering world, we must also always have a song.--David Budbill
And poets write in order to live fully:
We all stumble into ourselves /like this, fitting our fingers to the shape of letters, / while the page gallops out of our reach--Rebecca Seiferle
Only poetry lasts.--Ho Xuan Huong
Michael Wiegers is the Managing Editor at Copper Canyon Press.
CONTRIBUTORS Included: box]
Kay Boyle,
Olga Broumas,
Hayden Carruth,
Norman Dubie,
Han Shan,
Jim Harrison,
Carolyn Kizer,
W.S. Merwin,
Jane Miller,
Kenneth Rexroth,
Ruth Stone,
Anna Swir
or
Not Currently Available for Direct Purchase