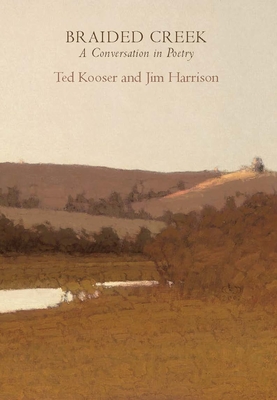 Braided Creek
A Conversation in Poetry
Paperback

* Individual store prices may vary.
Description
"I think every person needs to own this book."--Naomi Shihab Nye
Braided Creek contains more than 300 poems exchanged in this longstanding correspondence. Wise, wry, and penetrating, the poems touch upon numerous subjects, from the natural world to the nature of time. Harrison and Kooser decided to remain silent over who wrote which poem, allowing their voices, ideas, and images to swirl and merge into this remarkable suite of lyrics.
Each time I go outside the world
is different. This has happened
all my life.
*
The moon put her hand
over my mouth and told me
to shut up and watch.
*
A nephew rubs the sore feet
of his aunt,
and the rope that lifts us all toward grace
creaks on the pulley.
*
Under the storyteller's hat
are many heads, all troubled.

These little gems prove that less is often more.-- Library Journal
There are poems on the natural world, aging, dying, friendship, love and eros. There is abundant humor... There also is distilled wisdom.-- Houston Chronicle
So what we have here is a small book of finely etched verse by two experienced poets. It is something that many readers will want to carry around with them and dip into on occasion. Braided Creek is a vademecum or field guide for the soul.-- Bloomsbury Review
Both Harrison and Kooser show a 'coming of wisdom with time.' Kooser has been diagnosed with cancer, which may in part account for the intensity of the language and the sweeping philosophical stance of these quiet poems by two gifted men.-- Rocky Mountain News
Here's a book of glorious, intimate tidbits... filled with such small yet expansive moments, perfectly defined.-- The Memphis Commercial Appeal
For those who have ears to hear, infinity hums in the taut lines and compact images of this conversation in poetry. Seamless, poignant and profound, Braided Creek is a book worth listening to time and again.-- The Wichita Eagle
This book is superb... Simple in its language, spare in its style, Braided Creek presents dozens of short poems that resonate with truth, pain and radiance. Grudgingly acknowledging aging and illness, the verses here also clutch tightly to moments of good cheer, of life lived with spirit and grit and determination.-- The Kansas City Star
It's a wonderful, rewarding book.-- Philadelphia Inquirer
In 2014, the Academy of American Poets asked each of their Chancellors to name an essential book and a beloved book and Naomi Shihab Nye's beloved book is Braided Creek: I also recommend Braided Creek because the poems are so tiny and so succulent, each one a transporting hinge for the mind's happiest refreshing moments. I think every person needs to own this book. It easily brings you back to writing when you have felt far away or confused. It clarifies your spirit. Take a quick dip into the mixed back-and-forth voices of these two masters and delight. I have given more copies of this book away as gifts than any other book. And I know for certain that many people have appreciated it greatly. So, why not everyone?
Jim Harrison is one of America's beloved writers. He is best known for a collection of novellas, Legends of the Fall, and the epic novel Dalva. He lives in western Montana and southern Arizona.
Ted Kooser won the Pulitzer prize for his poetry collection Delights and Shadows. He served two terms as U.S. Poet Laureate and lives in Nebraska.
Copper Canyon Press, 9781556591877, 85pp.
Publication Date: April 1, 2003
About the Author
Jim Harrison is the author of thirty books, including Legends of the Fall, Dalva, and Shape of the Journey. His work has been translated into two dozen languages and produced as four feature-length films. In 2007, Mr. Harrison was elected to the American Academy of Arts and Letters. He divides his time between Montana and southern Arizona. As Poet Laureate of the United States, Ted Kooser launched the weekly poetry column American Life in Poetry, which appears in over 100 newspapers nationwide. He is the author of ten books of poems, and won the Pulitzer Prize for Delights & Shadows. He lives in Nebraska.