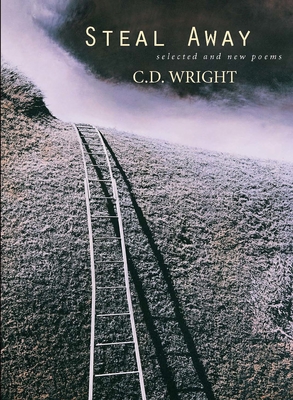 Steal Away
Selected and New Poems
Paperback

* Individual store prices may vary.
Description
Now in paperback, Steal Away presents C.D. Wright's best lyrics, narratives, prose poems, and odes with new retablos and a bracing vigil on incarceration. Long admired as a fearless poet writing authentically erotic verse, Wright--with her Southern accent and cinematic eye--couples strangeness with uncanny accuracy to create poems that offer a once-and-for-all thing, opaque and revelatory, ceaselessly burning.
from Our Dust
You didn't know my weariness, error, incapacity,
I was the poet
of shadow work and towns with quarter-inch
phone books, of failed
roadside zoos. The poet of yard eggs and
sharpening shops,
jobs at the weapons plant and the Maybelline
factory on the penitentiary road.

Wright has found a way to wed fragments of an iconic America to a luminously strange idiom, eerie as a tin whistle.--The New Yorker
Wright shrinks back from nothing.--Voice Literary Supplement
C.D. Wright is a devastating visionary. She writes in light. She sets language on fire.--American Letters
C.D. Wright has published nine collections of poetry and earned many awards, including the Lannan Literary Award and a Guggenheim Fellowship. She teaches at Brown University and in 1994 was named State Poet of Rhode Island. With her husband, Forrest Gander, she edits Lost Roads Publishers.
Copper Canyon Press, 9781556591945, 240pp.
Publication Date: September 1, 2003
About the Author
C.D. Wright, a Professor of English at Brown University, is the author of eleven books of poetry, as well as several collaborative works with photographer Deborah Luster, most recently One Big Self: Prisoners of Louisiana. She has earned fellowships from the MacArthur and Guggenheim foundations, and is the recipient of a Lannan Literary Award. She lives in Rhode Island.