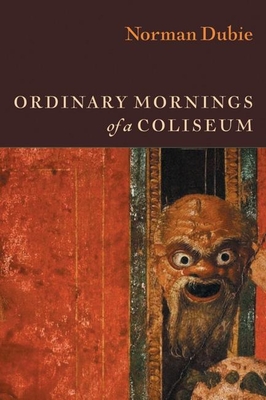 Ordinary Mornings of a Coliseum
Paperback

* Individual store prices may vary.
Description
The New York Times called Norman Dubie "one of our premier poets," and his new book proves the point. This "broken fantasia" addresses humankind's engagement with spiritual practice. Backdropped by politics and religion, Dubie searches for independent, individual meaning through the lives of eccentric and visionary holy men such as Meister Eckhart, Rumi, the Tibetan Tashi Lama, the mathematician Ramanujan, Michel de Nostradam and the Egyptian recluse, Cyril. "I adore how they are all ignoring us," Dubie writes, "with an absolute genius-like snoring."
Norman Dubie, a practitioner of Tibetan Buddhism, is a Regents' professor at Arizona State University and the author of 18 books of poetry. His work has been translated into 30 languages.
Copper Canyon Press, 9781556592133, 121pp.
Publication Date: October 1, 2004
About the Author
Norman Dubie, author of twenty books of poetry, is a Regents' professor at Arizona State University. A practitioner of Tibetan Buddhism whose work has been translated into thirty languages, Dubie received the PEN Center USA Literary Award for The Mercy Seat: Collected and New Poems.