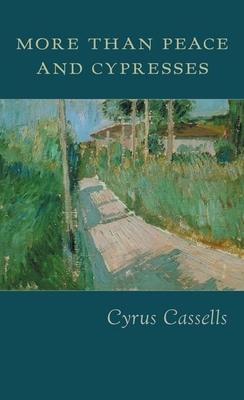 More Than Peace and Cypresses
Paperback

* Individual store prices may vary.
Description
Cyrus Cassells' fourth volume of poetry is an elegiac "book of heroes," a lyric homage to the "artistic fathers" who taught him "the truth-or-bust beauty of passion transformed / into sheer compassion."
In the wake of his father's death, Cassells returned to Italy, France and Spain, countries that nurtured him as a young writer, to investigate the sources of his inspiration. Vincent Van Gogh, Cesare Pavese, Eugenio Montale, Attilio and Bernardo Bertolucci, and Garc a Lorca are among those invoked and revisited in order to brace Cassells through his mourning, and to serve as touchstones in his search for the meaning of gallantry and quest for courage and expression.
Throughout his travels--and especially while contemplating flamenco culture--Cassells experiences the juxtaposition of mourning with unanticipated gusts of love and eroticism. Lush Andalusian-based poems emphasize the present's power for surprise and renewal, while his elegies are ecstatic, erotic and sometimes comic. Questing and elemental, elegantly lyrical, More Than Peace and Cypresses arcs beyond grief to celebrate the fleeting majesty of our lives.
From "Way of the Duende"
The day mind gone, Lord,
and all the stringencies,
the day's bright yokes, the day's heavy
bridles of status:
flamenco as an impassioned
celebration of night,
of duende, of mystery's
warrens and arabesques--
Romans, Carthaginians, phantom
Moors wander through the redemptive,
incantatory dancing--
Cyrus Cassells' previous books have earned the William Carlos Williams award, a Lambda Book Award, and a selection as "Best of the Year" by Publishers Weekly. He teaches at Southwest Texas State University and lives in Austin, Texas.
Copper Canyon Press, 9781556592140, 144pp.
Publication Date: October 1, 2004
About the Author
Cyrus Cassells, author of four books of poetry, is a graduate of Stanford University and has worked as a translator, film critic, and actor. He has received the Peter I.B. Lavan Younger Poet Award of the Academy of American Poets and a Lannan Literary Award. Presently he lives in Austin, Texas, and teaches at Southwest Texas State University.
or
Not Currently Available for Direct Purchase