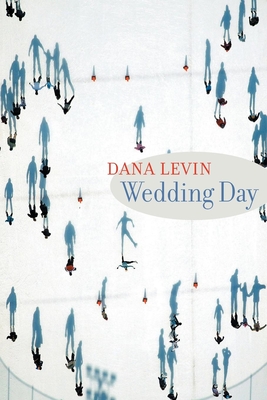 Wedding Day
Paperback

* Individual store prices may vary.
Description
From Ars Poetica
Six monarch butterfly cocoons
clinging to the back of your throat--
you could feel their gold wings trembling. . .
Dana Levin's singular voice and talent are unmistakable. Wedding Day is Levin's quest to synthesize the public and private, to find pattern and connection amid the disparate elements of modern life. Relentless in her examinations, she ultimately puts faith in poetry, believing it is the truest means--and best chance--to bridge the chasms between soul and society. Readers will put faith in Levin's poetry as well.
Dana Levin grew up in California's Mojave Desert. Her debut volume, In the Surgical Theatre, received nearly every honor available for first books and emerging writers. Other honors include fellowships and awards from the National Endowment for the Arts, the Witter Bynner Foundation and the Library of Congress, the Rona Jaffe and Whiting Foundations. A 2007 Guggenheim Fellow, Levin chairs the Creative Writing and Literature Department at College of Santa Fe in Sante Fe, New Mexico
From Library Journal
For her debut collection, In the Surgical Theatre, Levin (creative writing, Coll. of Santa Fe) won the 1999 American Poetry Review/Honickman First Book Prize and the John C. Zacharis First Book Award from Ploughshares; it's no wonder, then, that her follow-up has been anticipated by academic scholars and poetry lovers, who won't be disappointed. While her first work focused on the gritty details of physical matter, often its desecration or decay, Levin's current work offers insight into the most personal and unspoken thoughts that can be easily overlooked: "we were losing our bodies/ digitized salt of bytes and speed we were becoming a powder/ light/ bicarbonate/ what we might have seen, if we had looked." Her voice speaks to the private wars of self and the dark violence of reflection. Readers will find that this work carries the pulse of their darkest sorrows, in the breath of their humanity. Highly recommended for academic and public libraries.--April Davis, STG International, NIST, Oakotn, VA Copyright 2005 Reed Business Information
"intimate and hyponotic...whether turning her gaze inward or outward, these poems question the moral, aesthetic, and metaphysic needs that poetry exists to fill."
--Ploughshares
"Dana Levin's poems are extravagant...her mind keeps making unexpected connections and the poems push beyond convention...they surprise us."
--LA Times
"Images that are satisfyingly clear...and excitingly inexplicable"
--Robert Pinsky, Washington Post
Copper Canyon Press, 9781556592195, 96pp.
Publication Date: May 1, 2005
About the Author
Dana Levin grew up in California's Mojave Desert. Her first book won the APR/Honickman First Book Prize and PEN/Osterweil Award. Other awards include a grant from the National Endowment for the Arts, two Pushcart Prizes, and a Lannan Fellowship. She was recently selected by Louise Gluck as a 2004 Witter Bynner Fellow. Levin lives and teaches in Santa Fe.