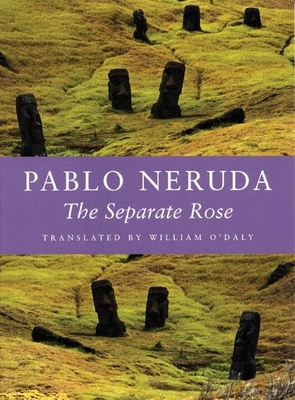 The Separate Rose (Paperback)
Copper Canyon Press, 9781556592256, 58pp.
Publication Date: August 1, 2005
* Individual store prices may vary.
Description
"This is pure Neruda at his prime, which is to say incomparable."--Choice
"The Separate Rose represents Pablo Neruda at the peak of his art, and William O'Daly has done an important service by bringing it before American readers with such care."--The Bloomsbury Review
The coast of Easter Island--the most isolated inhabited island in the world--is adorned with gigantic and miraculous stone statues. Neruda made a single pilgrimage to Easter Island during a poignant time in his life--he was dying of cancer and taking his life's inventory. Out of this journey grew a sequence of poems that alternate between "Men" and "The Island," through which Neruda observes the latest remnants of the ancient world in direct opposition to modernity. With an introduction by William O'Daly.
About the Author
Pablo Neruda (1904-1973)held diplomatic posts in Asian and European countries. After joining the Communist Party, Neruda was elected to the Chilean Senate but was forced to live in exile in Mexico for several years. Eventually he established a permanent home on Isla Negra. In 1970 he was appointed as Chile's ambassador to France; in 1971 he was awarded the Nobel Prize in Literature. William O'Daly has translated six books of Pablo Neruda's late and posthumous work, including the best-selling Book of Questions. His work as a translator has been featured on The Today Show.