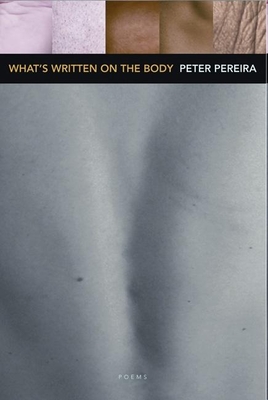 What's Written on the Body
Paperback

* Individual store prices may vary.
Description
"It's rare in contemporary poetry to find a book as boldly celebratory as Peter Pereira's new collection."--Chase Twichell
In What's Written on the Body, physician Peter Pereira explores the body, medicine, wordplay, gardening, family, and domestic gay life, often drawing from his experience as a community clinic doctor in Seattle.
An avid Scrabble player, anagrammer, and cruciverbalist, Pereira opens the collection with a delightful selection of wordplay poems, as a counterpoint to poems recounting the day-to-day practice of a family physician, from suturing a wound in the ER to extracting an eraser from a child's nose.
From "Body Talk"
Do you hear how the scalp claps?
How the heart contains the earth, yet
is also a hater? How saliva
is lava, while testicles sit elect
for their slice test . . .
Peter Pereira is a family physician in Seattle, where he cares for an urban, underserved population of immigrants, refugees, housing project residents, and the elderly. His first book won the Hayden Carruth Award, and his individual poems have appeared in a wide range of publications, including Poetry, USA Weekend, and The Journal of the American Medical Association.
Copper Canyon Press, 9781556592522, 80pp.
Publication Date: April 1, 2007