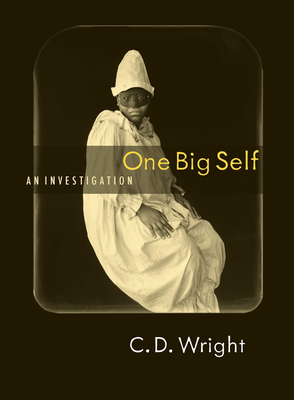 One Big Self
Paperback

* Individual store prices may vary.
Description
For a long while now, C. D. Wright has been writing some of the greatest poetry-cum-prose you can find in American literature. One Big Self does to the contemporary prison-industrial complex what James Agee did to poverty -- it reacts passionately and lyrically (and idiosyncratically) to a sociopolitical abomination. This book, while angry and sorrowful and bewildered, has humor, constant levity and candor, and countless moments of incredible beauty. --Dave Eggers, The New York Times Book Review
"Wright has found a way to wed fragments of an iconic America to a luminously strange idiom, eerie as a tin whistle, which she uses to evoke the haunted quality of our carnal existence."--The New Yorker
Inspired by numerous visits inside Louisiana state prisons--where MacArthur Fellow C.D. Wright served as a "factotum" for a portrait photographer--One Big Self bears witness to incarcerated men and women and speaks to the psychic toll of protracted time passed in constricted space. It is a riveting mosaic of distinct voices, epistolary pieces, elements from a moralistic board game, road signage, prison data, inmate correspondence, and "counts" of things--from baby's teeth to chigger bites:
Count your folding money
Count the times you said you wouldn't go back
Count your debts
Count the roaches when the light comes on
Count your kids after the housefire
One Big Self--originally published as a large-format limited edition that featured photographs and text--was selected by The New York Times and The Village Voice as a notable book of the year. This edition features the poem exclusively.
C.D. Wright is the author of ten books of poetry, including several collaborations with photographer Deborah Luster. She is a professor at Brown University.
Copper Canyon Press, 9781556592584, 96pp.
Publication Date: April 1, 2007
About the Author
C.D. Wright, a Professor of English at Brown University, is the author of eleven books of poetry, as well as several collaborative works with photographer Deborah Luster, most recently One Big Self: Prisoners of Louisiana. She has earned fellowships from the MacArthur and Guggenheim foundations, and is the recipient of a Lannan Literary Award. She lives in Rhode Island.