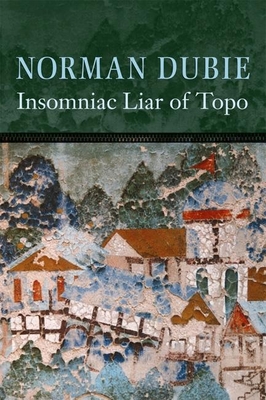 The Insomniac Liar of Topo
Paperback

* Individual store prices may vary.
Description
"Dubie has already been recognized as one of the most powerful and influential American poets . . . his poems have always been generous and inclusive, capable of containing multiple and conflicting worlds--of memory and the present, of the artistic and the daily."--The Washington Post Book World
"Dubie has a singular talent for inhabiting a persona and making convincing representations of another person's life, taking on a different view and experience of the world... It is the tenderness of his identifications that make Dubie's work so extraordinary." --Boston Review
Dubie continues to build poems on the unstable terrain of dreams and contemporized Blakean visions, stacking sharp images and impenetrable questions into tottering, sometimes ominous funhouse meditations. --Library Journal

The poems in Norman Dubie's Insomniac Liar of Topo behave much like that of a linear accelerator: exploding worlds into each other, from opposite poles, with tremendous speed, to discover the worlds within. Populated by an eccentric menagerie of mystics, holy men, and brilliant artists, Dubie brings together the astonishingly grotesque and sardonically beautiful, to call forth the sincere within the context of war and human dissonance.
Dubie, a master purveyor of trickster protest and psychological release, uses an array of voices to highlight the splinter and shatter of wartime, of destroyed art and sacred texts, and the specific and various destructions that have made humans themselves aliens of their own planet.
So, the sun's down, the ship's lights
are like obvious fat jewels. And
if we want to have commerce
with the lizard men in their blue suits,
then we must eat more of these slouching animals
and fasted too.
Norman Dubie is the author of nineteen books of poetry and served as poetry editor for The Iowa Review and director of the graduate poetry workshop at the University of Iowa. He helped found the MFA program at Arizona State University in Tempe, where he teaches as a regents professor for creative writing.
Copper Canyon Press, 9781556592638, 83pp.
Publication Date: October 1, 2007
About the Author
Norman Dubie, author of twenty books of poetry, is a Regents' professor at Arizona State University. A practitioner of Tibetan Buddhism whose work has been translated into thirty languages, Dubie received the PEN Center USA Literary Award for The Mercy Seat: Collected and New Poems.