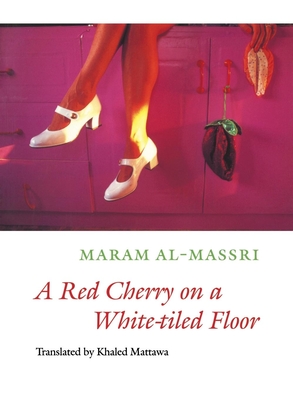 A Red Cherry on a White-Tiled Floor
Selected Poems (Lannan Literary Selections)
Paperback

* Individual store prices may vary.
Description
"Maram al-Massri comes as a shock. She writes about all the taboo subjects--physical passion, faithlessness, adultery, loneliness, despair--with candor and intensity that would mark her out even to Westerners."--The Times (London)
"Her direct, unadorned writing, with its emphasis on the quotidian, and utilization of simple, almost child-like metaphors, contrast sharply with the conventions of traditional Arabic love poetry."--Banipal: Magazine of Modern Arab Literature

The spare emotive verse of A Red Cherry on a White-tiled Floor reflects definite bravery on the part of Syrian poet Maram Al-Massri.
--ForeWord
Sexy, mischievous and utterly delightful, (al-Massri's) poems are epigrammatic, seductively clever and at their best, unforgettable.--San Diego Union-Tribune
Short, vivid, frankly erotic and remarkable for their emotional intelligence, Syrian poet Al-Massri's poems are as startling in English as they must have been to their first Arabic readers. --Publishers Weekly
Syrian poet Maram al-Massri writes of love and the place of women in the modern age with striking candor and intensity. "I am this mix between the submissive and rebellious woman," she writes, "my freedom is so difficult and so desired." Her poems invoke a world where women are trapped and men flow freely, of the intoxicating power of seduction and the intensity of lust, of the security of relationships and muffled explosions of emotion.
Like grains of salt
they shone
then melted.
This is how they disappeared,
those men
who did not love me.
Al-Massri herself straddles racial, religious, and cultural worlds. Born in Latakia, Syria, she moved to Paris in 1984 and has since refused to return: "I divorced from my past, my religion, my land, and even from my language." Despite being fluent in French and English, she writes in Arabic, following traditional forms.
A Red Cherry on a White-tiled Floor is al-Massri's first book published in the United States, and appears in a bilingual Arabic-English edition.
Copper Canyon Press, 9781556592645, 114pp.
Publication Date: November 1, 2007
About the Author
Maram al-Massri was born in Latakia, Syria, in 1962, and has lived in France since 1982. She has published three collections in Arabic, and her poems have been translated into many languages, with books published in French and Spanish. Khaled Mattawa was born in Libya and came to the United States in his teens. He is the author of Zodiac of Echoes and Ismailia Eclipse, and the translator of three volumes of contemporary Arabic poetry. He has been awarded a Guggenheim Foundation fellowship, the Alfred Hodder Fellowship at Princeton University, and an NEA translation grant.