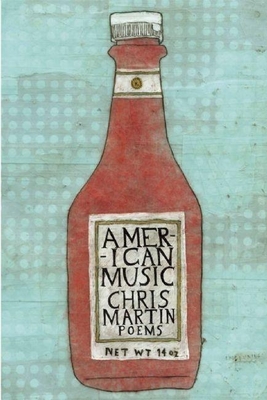 American Music
Paperback

* Individual store prices may vary.
Description
"Chris Martin . . . takes the O'Hara city poet eye in his own direction, showing a sweet vision for the distance between public and private spaces."--Jacket
American Music, selected by C. D. Wright from over one thousand manuscripts as winner of the Hayden Carruth Award for New and Emerging Poets, is uniquely attuned to the feedback symphony of a modern city, the lyrical product of "an earnest rage born of the absurd."
Chris Martin's poems reflect all things found in the urban environment: asphalt, subways, technology, strangers, the drudgery of work, the garbage trucks and open parks, fist fights and snapshots, fears and paranoia, loves and joys. Here is the constant sense of life hurtling forward without the time to reflect, within a city rife with opportunities: "I can practically / Hear all those words out / There amassing to make the journey / Inward."
American Music is a jostling of the senses; a decadent descent into the throbbing of a metropolitan world filled with familiar but yet unresolved queries:
. . . it strikes me
That every person in every passenger
Seat in every car in
Every town in every country
Is having some goddamn
Thought--this is mine.
Chris Martin is a rapper, teacher, and editor of Puppy Flowers, an online magazine of the arts. He holds an MA in poetry, performance, and education from the Gallatin School of Individualized Study at New York University. He lives in Brooklyn.
Copper Canyon Press, 9781556592669, 110pp.
Publication Date: November 1, 2007
About the Author
Chris Martin's debut volume of poetry, American Music (Copper Canyon), won the Hayden Carruth Award. He lives in Brooklyn, New York.