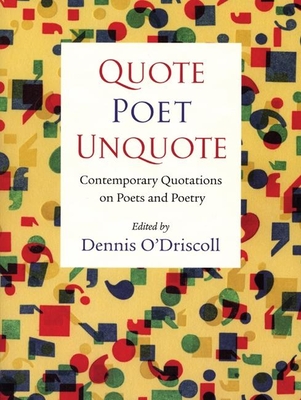 Quote Poet Unquote
Contemporary Quotations on Poets and Poetry
Paperback

* Individual store prices may vary.
Description
"One of the best-read men in the Western world" is how Poetry Review describes Irish poet-critic Dennis O'Driscoll. Quote Poet Unquote, his compilation of contemporary quotations on all things poetry-related, proves that judgment spot on. The book grew out of O'Driscoll's column "Pickings and Choosings" for Poetry Ireland Review, and contains nearly two thousand smart sayings obsessively gleaned from six hundred sources--including powerhouse critics, prize-winning poets, world leaders, and newspaper headlines. The voices in this volume are by turns provocative, deadpan, humorous, and inspirational:
"If you dribble past five defenders, it isn't called sheer prose."--Tom Leonard
"I do not give the honorific name of 'poetry' to the primitive and the unaccomplished."--Helen Vendler, The New York Times
"I started a PhD in English at the University of Chicago because I loved poetry--which I now realize is like saying I studied vivisection because I loved dogs."--Michael Donaghy, Verse
Organized by headings as forthright as "What Is It Anyway?" as playful as "Prose and Cons" and "No, Thanks" (on bad poetry), this collection is both a reference work and a supremely entertaining take on the poetry world. Quote Poet Unquote offers incontrovertible evidence--thousands of pieces of it--that poetry, and the passionate discourse it generates, is alive and kicking.
Dennis O'Driscoll, former editor of Poetry Ireland Review, is the author of seven books of poetry and a collection of essays. He lives in Ireland.
Copper Canyon Press, 9781556592706, 315pp.
Publication Date: April 1, 2008
About the Author
Dennis O'Driscoll is one of Ireland's most widely published and respected critics of poetry. He is the author of seven previous collections of poetry and one collection of essays. His awards include a Lannan Literary Award, the E.M. Forster Award, and the O'Shaughnessy Award for Poetry. He lives in Co Kildare, Ireland.