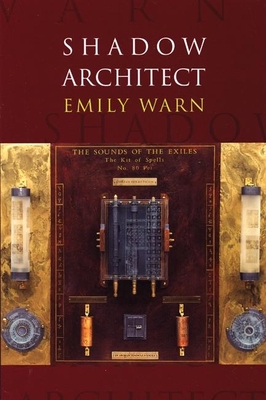 Shadow Architect
Paperback

* Individual store prices may vary.
Description
"Emily Warn is one tough poet. . . . She not only takes on God but also juggles the hot coals of memory and wrestles her way to an honest spiritual life."--The Seattle Times
Warn has created a serious meditation on Jewish prayer and cosmogony, in lyrical prose and in accessible verse, a book that belongs not only on poetry shelves, but amid other Judaica and books of prose and verse on religious themes. --Publishers Weekly
...a sincere exploration of spirituality and the line between the abstract and the concrete... --Library Journal
How are words made, and how do they derive power? These are the questions at the core of Emily Warn's Shadow Architect, organized around the twenty-two-letter Hebrew alphabet. Mystics have seen that alphabet as a key to divine intent, since God brought the world into being through speech. But Warn takes a poet's view rather than a theologian's: she sees the alphabet's power to reveal the nature of invention, and the limits of language and knowledge. Shadow Architect channels this power not only through word but through image: each poem begins with an illumination of a Hebrew letter. Within the set boundaries of this alphabet, Warn generates a rich polyphony, uniting her own distinctly American poetics with the language of sacred texts and commentaries.
The result is an alluring, postmodernist take on how language means: an architecture not only of shadows, but of "correspondences, analogies, clues, / binaries, metaphors, keys."
To invent the alef-beit,
decipher the grammar of crows,
read a tangle of bare branches
with vowels of the last leaves
scrawling their jittery speech
on the sky's pale page.
Emily Warn, author of two previous books of poetry, lives in Seattle and Chicago, where she is the editor of the Poetry Foundation's website.
Copper Canyon Press, 9781556592775, 139pp.
Publication Date: July 1, 2008
About the Author
Emily Warn is the editor for the Poetry Foundation website, which won a 2007 Best of the Web award. A former Stegner Fellow at Stanford, she is the author of two books of poems. She lives in Chicago and Seattle.