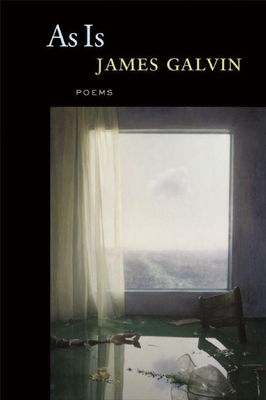 As Is
Paperback

* Individual store prices may vary.
Description
"James Galvin has a voice and a world, perhaps the two most difficult things to achieve in poetry."--The Nation
Galvin's poems seem straightforward enough--but they're not....Galvin writes here like a force of nature. VERDICT: Excellent reading for contemporary poetry enthusiasts not looking for the overblown.--Barbara Hoffert, Library Journal
James Galvin's poems have zero percent body fat. His tightly controlled and detailed poems evoke measured optimism in a spare existential world where certain characters--"The Mastermind" and the "Members of the Board"--are recurring shadows. Like fables suggesting new truths, personal narratives and love poems intertwine to confront the various paradoxes of domestic life, art, and politics, and the line "All poems are love poems" leans hard against "Some poems are better off dead." In As Is, both claim their hard-won place.
I think black holes are just plastic
Garbage bags blowing down the midnight highway
That is the Universe.
There aren't as many dimensions as we thought.
A black hole can disappear anything that nears it.
We all know that.
The farthest away I've ever been is in my own home,
Finally cleaning out my daughter's room
So another little girl can live here.
The black plastic bag I held in my hand
Was infinitely capacious.
I mean I could throw anything in there.
James Galvin is a Wyoming rancher and on the permanent faculty at the Iowa Writers' Workshop. He is the author of six books of poetry, a novel, and the acclaimed memoir The Meadow. He lives in Tie Siding, Wyoming, and Iowa City, Iowa.
Copper Canyon Press, 9781556592966, 68pp.
Publication Date: July 1, 2009
About the Author
James Galvin is both a rancher in Wyoming and on the permanent faculty at the Iowa Writers' Workshop. He is the author of six books of poems, an acclaimed memoir The Meadow, and a novel.