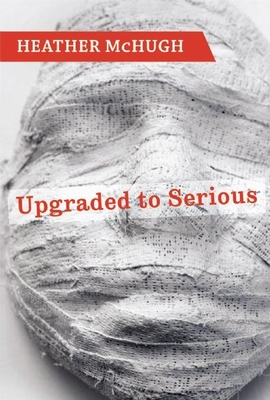 Upgraded to Serious (Lannan Literary Selections)
Hardcover

* Individual store prices may vary.
Other Editions of This Title:
Paperback (6/19/2012)
Description
Carol Muske-Dukes calls McHugh, with her comic-book moxie and her linguistic virtuosity, a kind of Superwoman of poetry. The poems focus on what is within 'eyeshot, ' or visible, but their true subject is their author's mortal acuity.--Los Angeles Times
McHugh's eighth book finds this acclaimed poet as odd and entertaining as ever, with her trademark slippery associative lines and jagged stanzas...but also subtly sobered by growing older while living through the grim political climate of the last eight years. McHugh's short, jerky lines, odd rhymes, bemused gravity and slant perspective on the world at hand bring Emily Dickinson to mind....McHugh remains one of our most important and unusual poets....--Publishers Weekly (Starred Review)
Offering an idiosyncratic sense of sacredness, the book makes the earnest and the tongue-in-cheek almost indistinguishable....Writing in her signature relaxed iambic line, McHugh flips and winds the language of American common wisdom. In Upgraded to Serious...we encounter a poet who is listening assiduously. Her attention to language is visible in each poem's marked use of rhyme. The sustained outpouring of alliteration gives the sense that McHugh will never be out of breath.--ForeWord
McHugh's poems move as fluent wholes, thanks in part to her artful use of rhyme, rhythm, and portmanteaux. If much ancient poetry has become fragmentary over time, and much modern poetry begins as fragments, Heather McHugh's poetry blurs the line between fragments and wholes, crafting one from the other. She delights both in dilating linguistic fragments into astonishing new wholes and in exposing and excavating language's invisible fault-lines.--The Oxonian Review
"If McHugh is serious, she's anything but grim; with all her punning, bantering, and mock scolding of herself . . . she brightens the shadowy corners of her world with verbal pyrotechnics."--The New York Times Book Review
"McHugh is known as a challenging wordsmith, but, as this collection reveals, she is also a compassionate eyewitness . . . Her lines are animated but serious, and though they accelerate quickly, meaning and humor can be found in a single word."--The New Yorker

"Her poems are open, resilient, invisibly twisted: part safety net, part trampoline."--The Village Voice Literary Supplement
One of Publishers Weekly's Best Books of 2009
National Book Award finalist and 2009 MacArthur Fellow Heather McHugh presents a fast-paced, verbally dexterous, and brilliantly humorous book. Utilizing medical terminology and iconography to work through loss and detachment, McHugh's startling rhymes and rhythms--along with her sarcastic self-reflection and infectious laughter--serve as antidotes to the sufferings of the world. Being "upgraded to serious" from critical condition is a nod to the healing powers of poetry.
Not to Be Dwelled On
Self-interest cropped up even there,
the day I hoisted three instead
of the ceremonially called-for two
spadefuls of loam
onto the coffin of my friend.
Why shovel more than anybody else?
What did I think I'd prove? More love
(mud in her eye)? More will to work?
(Her father what, a shirker?) Christ,
what wouldn't anybody give
to get that gesture back?
She cannot die again; and I
do nothing but re-live.
Heather McHugh is the author of a dozen books of poetry and translation. She teaches at the University of Washington and Warren Wilson College and lives in Seattle.
Copper Canyon Press, 9781556593062, 85pp.
Publication Date: November 1, 2009
About the Author
Heather McHugh is the author of a dozen books of poetry and translation, including Hinge & Sign, a New York Times Book of the Year and a finalist for the National Book Award. McHugh teaches at the University of Washington and has been a visiting faculty member in the MFA at Warren Wilson College since its inception.
Coverage from NPR